Tea Party favorite Bridenstine defeats incumbent Sullivan in Oklahoma primary
By ,
Published December 23, 2015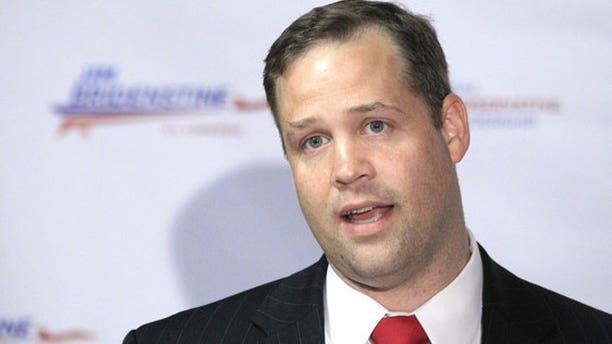 Most eyes in the political world were trained on whether 82-year-old Charlie Rangel, D-N.Y. would survive his primary Tuesday night.
The same was the case in Utah with Sen. Orrin Hatch, R-Utah.
But Rep. John Sullivan, R-Okla., became the ninth Congressional incumbent to lose a primary Tuesday night.
Sullivan faced tea party favorite Jim Bridenstine in the congressional district that includes Tulsa.
A former Navy pilot, Bridenstine claimed the five-term lawmaker was out of touch, voted to raise the debt ceiling and was in favor of "government takeovers."
Sullivan's loss sparked chatter during a sequence of late-night votes on the House floor Tuesday. One lawmaker said he was "shocked." Several spoke of how Sullivan may have alienated optometrists and chiropractors in his district who in turn, banded against him.
Seven other House members and one senator have lost primaries this year. They include Reps. Jason Altmire, D-Penn., Tim Holden, D-Penn., Dennis Kucinich, D-Ohio, Don Manzullo, R-Ill., Sylvester Reyes, D-Texas, Steve Rothman, D-N.J., Jean Schmidt, R-Ohio, and Sen. Dick Lugar, R-Ind.
Also avoiding primary losses Tuesday night were Reps. Nydia Velazquez, D-N.Y. and Doug Lamborn, R-Colo.
https://www.foxnews.com/politics/tea-party-favorite-bridenstine-defeats-incumbent-sullivan-in-oklahoma-primary