Summer students get taste of Occupy movement at Maryland community college
By ,
Published December 22, 2015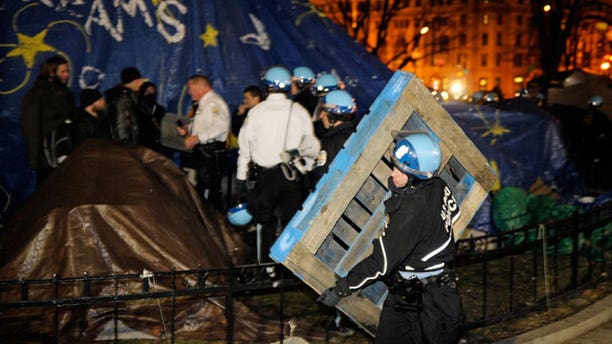 Students in ninth through the 12th grade attending summer programs at a community college outside Washington, D.C., will get a taste of the Occupy operation in a new course that aims to get them interested in "the movement for justice."
"Occupy MoCo!," one of the newest courses at Montgomery College in Montgomery County, Md., is part of the Summer Youth program offered for 2012.
"We are at an exciting time in the history of the world. People all over the planet are taking democracy into their own hands and working together to create solutions for a better world," reads the course description for YOU392.
"Take advantage of this interactive opportunity to learn critical thinking skills that will help you in college and gain insight into becoming a global leader of the 21st century. Learn about the Occupy Wall Street movement and explore real-life human rights implications. Review social justice concepts and explore human rights issues related to current events. Young people hold the power to change their community, their schools, their future -- are you ready to join the movement for justice?"
Elizabeth Homan, the school's director of communications, said the class "does not take a stance on the Occupy movement. Rather, the movement provides a creative opportunity for students to discuss protests throughout history, as well as current events, definitions, and various processes that can be used to voice opinions in the community."
The class, however, is a standout among the academic courses offered for the season.
Other new classes being offered for the summer 2012 session include "3D Geometry -- Let's Build a City," "Be a Nurse or Just Work with One," "Battle-Bot Build-a-Thon," "Be a Real Life Investigative Reporter," "Chemical Wizardry," "Diggin' for Dinosaurs Rockin' Rocks and Crystal Creations," "Junkyard Warriors," "Game Building Software," "Passion for Fashion," and "Your Doll and You," among others.
Homan said the class is a noncredit program that is two weeks in length, and is designed for high school students who take AP/honors classes.
"The class is a hybrid of history and current events. Students will learn about protests throughout history, as well as the current events of today. They will participate in role-playing, read newspapers, and learn how people voice opinions in the community," Homan said in an email to FoxNews.com.
The Occupy MoCo! class costs $190 for 10 three-hour sessions. Homan said tuition covers the cost of the class, which is being taught by a part-time summer youth instructor. Homan said there will be no homework or field trips.
"Everything will take place in the classroom," she said.
https://www.foxnews.com/politics/summer-students-get-taste-of-occupy-movement-at-maryland-community-college