Sneaking through? Conflicting reports on 'secret' immigration plan
By ,
Published December 20, 2015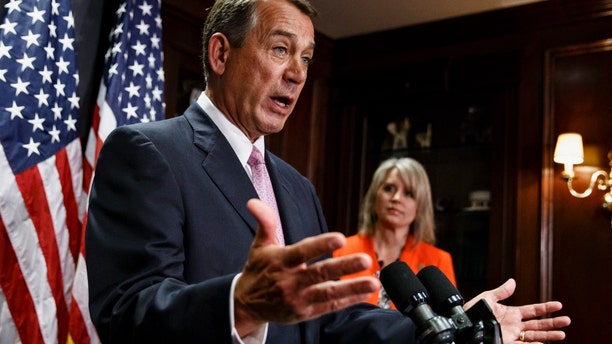 House Speaker John Boehner reportedly insisted Tuesday there is no "conspiracy" to push an immigration bill through the House – but a top Democrat suggested not only is there a deal in the works, it's an open secret.
The conflicting messages further blurred the status of immigration talks on Capitol Hill.
Boehner just two months ago appeared to slam the brakes on negotiations altogether, blaming the administration's failure to enforce existing immigration laws. But GOP leaders, including Boehner, have signaled lately they're at least interested in bringing back a bill.
Democratic Sen. Chuck Schumer, at an immigration event Monday in New York, went further and seemed to claim a bill is in the works.
The New York Daily News reported that Schumer, a staunch advocate of legislation that includes a path to citizenship for illegal immigrants, said Monday at an immigration event: "I want to let you in on a little secret. We are going to pass that bill and sign it into law this year."
Schumer predicted an immigration bill, even if not the same one passed by the Senate, will hit the House floor.
Schumer's not the only one feeling bullish on immigration legislation.
Last week, the No. 4 House Republican, Rep. Cathy McMorris Rodgers, R-Wash., also said "there is a path that we get a bill on the floor by August," according to The Spokesman-Review newspaper.
This comes after Boehner reportedly said he was "hell-bent" on getting a bill through this year.
The comments and assurances come amid speculation that GOP leaders are keen to advance a bill, in part because the window may be closing to act on immigration and in part because doing so may help the party with Latino voters.
The Hill reported that Boehner also told lawmakers during a private GOP meeting Tuesday that there was no "secret conspiracy" to pass an immigration bill.
Boehner, addressing the issue at a GOP leadership press conference later Tuesday, tried to clarify the mixed messages. He kept the door open to immigration legislation but reiterated that the biggest obstacle continues to be that the American people and Congress don't trust President Obama to enforce the law "we may or may not pass."
"We continue to work with our members," Boehner said, adding that Obama needs to take action to address the trust deficit.
Meanwhile, Boehner downplayed remarks he made last week to a local Rotary Club in Ohio where he appeared to make fun of GOP members who don't want to deal with immigration.
"Here's the attitude. 'Ohhhh. Don't make me do this. Ohhhh. This is too hard'," Boehner said, pretending to whine.
"There was no mocking," Boehner said Tuesday. "You all know me. You tease the ones you love."
https://www.foxnews.com/politics/sneaking-through-conflicting-reports-on-secret-immigration-plan