Remains received from North Korea 'consistent' with being US service members, Pentagon says
By Nicole Darrah, ,
Published August 02, 2018
The human remains returned to the U.S. by North Korea last week are "consistent with being Americans," according to an official who saw the contents of the 55 boxes.
It's too early to know how many people are inside the boxes, John E. Byrd, a government scientist who oversees the laboratory examining the remains, told reporters Thursday.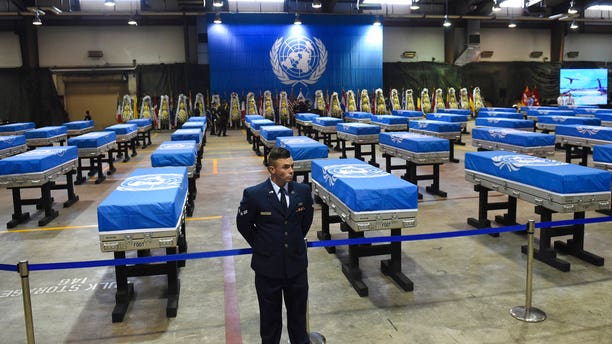 The remains are currently "undergoing forensic analysis" at the lab in Hawaii, another official said, adding that the U.S. is "guardedly optimistic" about the situation.
The Pentagon exclusively showed Fox News military equipment that was found among the remains, including several pairs of boots, two helmets, several canteen bottles, dozens of buttons, buckles, a bayonet handle, socks and one pair of what appeared to be fingerless gloves.
NORTH KOREA RETURNED 1 DOG TAG WITH 55 SETS OF SOLDIER REMAINS, US OFFICIAL SAYS
One dog tag from a U.S. Army soldier was among the recovered equipment, and two sons of the deceased soldier will receive the dog tag next week.
Most of the remains returned to the U.S. were from the village of Sinheung Ri, near the Chosin Reservoir. The site hosted a famous battle fought from November to December of 1950 during the Korean War.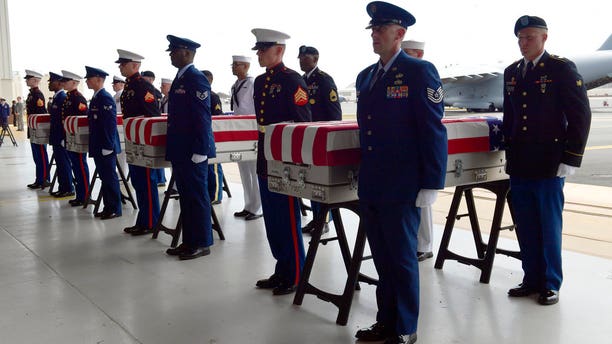 Byrd added that of all the possibilities, what surprised him most "was the great care that the North Koreans, the KPA, soldiers took in packaging and preparing those remains to be handed over to us."
"They had been very carefully packaged with padding and packaging that was done to, I think, a very high standard," he said.
Additionally, if any unarmed U.S. officials plan to return to North Korea to recover additional remains from the war, the Korean People's Army of the North will provide security, officials said.
Vice President Pence said on Wednesday during a ceremony in Hawaii that the return of the remains is a sign of "tangible progress in our efforts to achieve peace on the Korean Peninsula."
Pence added that while the process of identifying the soldiers will be long "they are known but to God ... but soon we will know their names and we will tell their stories of courage."
The remains were handed over as part of an agreement between President Trump and North Korean leader Kim Jong Un following their June summit.
Fox News' Lucas Tomlinson contributed to this report.
https://www.foxnews.com/politics/remains-received-from-north-korea-consistent-with-being-us-service-members-pentagon-says