House pulls spending bill amid backlash as government shutdown looms
By ,
Published December 20, 2015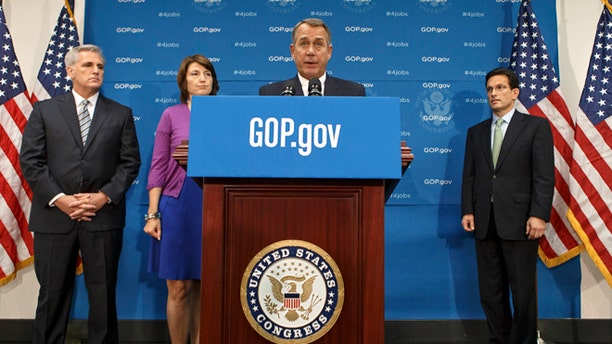 House Republican leaders pulled their plan Wednesday to temporarily fund the federal government after rank-and-file party members said it sidestepped "defunding" ObamaCare.
The action further narrowed Congress' time to strike a budget deal before an Oct. 1 government shutdown.
House Speaker John Boehner and his team pulled the plan, which could have gotten a full chamber vote as early as Thursday, after a conservative backlash led by the Tea Party movement and Heritage Action for America.
The plan essentially called for the House to vote on defunding ObamaCare and the temporary spending bill, then send the package to the Democrat-controlled Senate, which almost certainly would have jettisoned the defund part and allowed the chambers to negotiate on a "clean" funding bill.
"The Ruling Elite is up to it again," the Tea Party Patriots group said Wednesday. "They want you to think they have voted for defunding ObamaCare. But it's another shell game."
Meanwhile, Congress must also work on several other pressing issues, especially agreeing to increase the debt ceiling, which the government could hit as soon as mid-October, according to a recent Treasury Department assessment.
Boehner defended his defund-spending plan Tuesday, saying his chamber has already voted 40 times to "defund, repeal and change" ObamaCare, so the Senate must now take up the fight.
Although Boehner pulled the bill because he didn't have the votes, sources tell Fox News the speaker has no intention of changing the plan and might revisit it next week -- after members realize its strengths.
Meanwhile members from both parties appear optimistic about avoiding a partial government shutdown, despite the looming deadline and the potential for another internal House struggle.
"We've got some time left," Kentucky Republican Rep. Hal Rogers, chairman of the House Appropriations Committee, told Fox News. "It's not time to panic."
The postponement of a Capitol Hill vote on a military strike on Syria will indeed eliminate the related hearings and classified briefings that slowed work on other pending issues, including immigration reform, the Farm Bill and whether to limit the extent to which the National Security Agency can collect data on Americans in its efforts to thwart terrorism.
However, lawmakers suggested the postponed Syria vote will likely delay, not accelerate, votes on other issues.
"Syria did take up a lot of attention," Maryland Democrat Rep. John Delaney told Fox News. "But I think people are confident we'll do something. … God help us if we cannot agree to basic stuff like keeping the government funded. ... Next week's going to be a good test."
Fox News reporters Wes Barrett, Nicholas Kalman and Chad Pergram contributed to this report.
https://www.foxnews.com/politics/house-pulls-spending-bill-amid-backlash-as-government-shutdown-looms