Governor battles heat up Tuesday: Dems at risk of losing another New England seat
By Gregg Re, ,
Published August 14, 2018
Hotly contested gubernatorial primary races across the country could make history on Tuesday, as Republicans hope to continue to erode Democratic control of New England governorships and progressives look to nominate the nation's first-ever transgender candidate to a state's highest office.
In deep-blue Connecticut, which went for Hillary Clinton by double-digits in the 2016 presidential campaign, Bridgeport Mayor Joseph Ganim and wealthy businessman Ned Lamont are competing for the Democratic nomination to succeed deeply unpopular Gov. Dan Malloy.
Malloy, who decided not to seek a third term, was shown by some polls to be the least popular governor in the nation, with critics citing the state's high taxes and major budget woes. That's left an opening for Republicans, who are looking to continue to encroach on governorships in the traditionally liberal New England.
The GOP currently holds the governorships of four out of six states in the region, including Vermont, Maine, Massachusetts, and New Hampshire.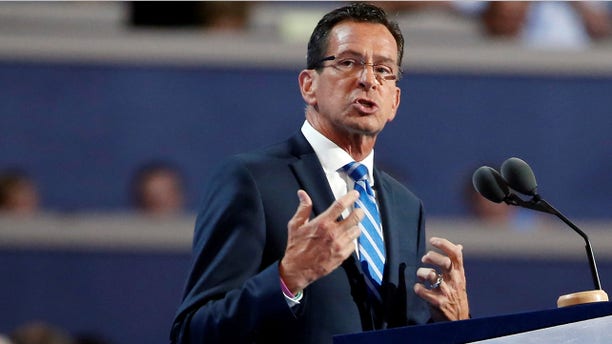 New England, long a liberal stronghold, has been home to something of a Republican insurgence in recent years, with GOP candidates attributing their success to a healthy mixture of fiscal conservatism, socially moderate views and a willingness to collaborate with political rivals.
TUESDAY'S BIG PRIMARY: WILL THE #METOO MOVEMENT HAVE A ROLE?
Danbury Mayor Mark Boughton, former First Selectman Tim Herbst, businessman Steve Obsitnik, former investment banker Bob Stefanowski and former hedge fund manager David Stemerman are the candidates for the GOP nomination in Connecticut's governor race, and they've also cited an additional factor: widespread unhappiness with state Democratic leadership.
"There is definitely frustration, and I think that's why you sort of see that red tide, a mini red tide if you will, out in this part of the state in terms of seats flipping from blue to red," Boughton, the GOP's endorsed candidate, told The Associated Press.
However, the Republican candidates have disagreed on what to do with the state's income tax. Stefanowski and Boughton have said they want to eliminate it entirely, while Stemerman and Obsitnik have balked at the idea.
Meanwhile, in Vermont, Republican Gov. Phil Scott is running for re-election – and is favored to win it. No sitting governor has been defeated in Vermont since 1962, but Democrats have two candidates running who could make history, and some Republicans remain upset about Scott's decision to sign gun-control legislation into law earlier this year.
WATCH: PROTESTERS HECKLE 'TRAITOR' VERMONT GOVERNOR FOR SIGNING ANTI-GUN LAW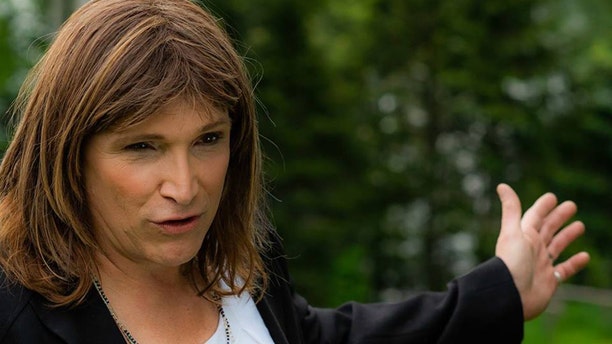 Christine Hallquist is vying to be the first openly transgender woman to serve as a U.S. governor. A former CEO of the Vermont Electric Cooperative, Hallquist is focused on tackling climate change and implementing universal health care in the Green Mountain State.
"Nationally, I want to be known as the first trans candidate."
She's appealed to Vermonters with a progressive message including a livable wage, Medicare for all, free public college education and high-speed broadband access — even to those who live on remote back roads.
"That's how I want to be known in Vermont," Hallquist, 62, told The Associated Press in an interview at her Burlington offices. "Nationally, I want to be known as the first trans candidate."
Another Democratic gubernatorial candidate in Vermont is hoping to make history on Monday, as well: a 14-year-old boy who took advantage of the state constitution's lack of an age requirement to hold office.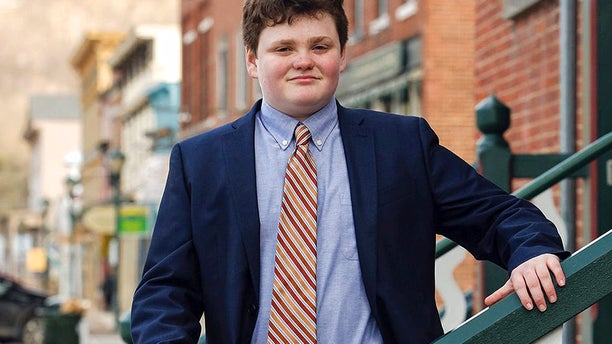 The boy, Ethan Sonneborn, has hit the ground running, attending debates and insisting he could lead the state.
"I think Vermonters should take me seriously because I have practical progressive ideas, and I happen to be 14, not the other way around," Sonneborn said in a recent televised gubernatorial forum. "I think that my message and my platform transcend age."
In April, Scott signed what for Vermont was historic — if mild by national standards — restrictions on gun ownership, angering his Republican base. His once sky-high popularity has waned, potentially leaving an opening for a well-funded Democratic challenger.  Scott faces a primary challenge from Springfield businessman Keith Stern, who describes himself as a conservative running on financial issues.
Meanwhile, Wisconsin and Minnesota are home to tight races with national significance.
In Wisconsin, eight Democrats are running in the primary to take on incumbent Gov. Scott Walker, a Republican and former presidential candidate who faces only one challenger within his own party. Trump barely eked out a win over Clinton in the 2016 presidential election in Wisconsin, earning 47.8 percent of the vote compared to her 47.0 percent.
Walker has warned of a possible "blue wave" in November, saying "the wind's not at our back."
And in Minnesota, Tim Pawlenty is hoping to stage a political comeback and become Minnesota's governor again, in a race that Fox News considers a tossup.
Pawlenty is one of three candidates vying for the GOP nomination for governor to replace outgoing Democratic Gov. Mark Dayton. His main opponent is Jeff Johnson, who was the party's 2014 gubernatorial nominee. On the Democrats' side are: state Rep. Erin Murphy, Minnesota Attorney Gen. Lori Swanson and U.S. Rep. Tim Walz.
Pawlenty said he retired from politics after he suspended his 2012 presidential campaign. He was first elected as Minnesota's governor in 2002 and was re-elected four years later. After he left the statehouse, he spent several years working for the Financial Services Roundtable in Washington, D.C
Also in Minnesota, Rep. Keith Ellison's campaign for state attorney general was thrown for a loop after an ex-girlfriend publicly alleged he emotionally and physically abused her during the course of their relationship.
Ellison was considered the heavy favorite leading up to the primary, given his fundraising advantage and leadership in the Democratic National Committee as its deputy chairman. He also got support from 2016 presidential contender and Vermont Sen. Bernie Sanders.
Fox News' Kaitlyn Schallhorn contributed to this report.
https://www.foxnews.com/politics/governor-battles-heat-up-tuesday-dems-at-risk-of-losing-another-new-england-seat