Gingrich: Left having 'orgy of thrills' over Trump team convictions, but Tibbetts case more important
By Alex Pappas, ,
Published August 22, 2018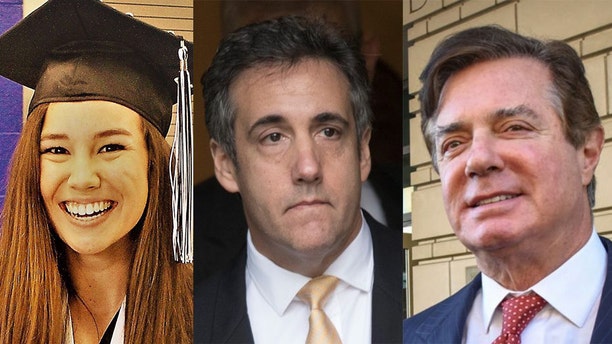 Newt Gingrich says liberals are having an "orgy of thrills and excitement" over the convictions of Trump associates Paul Manafort and Michael Cohen, but the murder of University of Iowa student Mollie Tibbetts, allegedly by an illegal immigrant, is a more significant issue heading into the midterm elections.
"What happened to Mollie Tibbetts is historically far more important than what happened to Paul Manafort," the former House speaker told Fox News by phone Wednesday.
Gingrich -- who presided over big Republican House gains, and later losses, during the Clinton presidency -- sought to put Tuesday's momentous 24 hours of news into context, as headlines across the country described the developments as a body blow to the president. He said there are two political universes heading into November's elections: one where the left believes the "key issues are people like Manafort and Cohen" and the other where the right believes it's important to have a president who will "protect Americans."
MOLLIE TIBBETTS MURDER SUSPECT ORGINALLY FROM MEXICO, LIVING IN US ILLEGALLY
"If we allow the left to define what the issues are in September or October, they might win narrowly," Gingrich said. "If we define what the issues are, they will lose badly."
Over the span of just a few hours on Tuesday, a federal jury in Virginia convicted Manafort – Trump's former campaign chairman – on eight counts of bank and tax fraud; Cohen, Trump's former longtime personal lawyer, struck a plea deal with prosecutors and admitted to violating federal campaign finance laws to help Trump; and police in Iowa announced the end of a month-long search for Tibbetts and said they believe she was murdered by an illegal immigrant.
"If you're a liberal, you rush to Manafort and you now have your battle cry," Gingrich said. "If you're a normal American -- where 84 percent of the country believes that sanctuary cities increase crime -- you probably think it'd be nice to have a president who wants to protect Americans."
Gingrich has faced some media criticism for casting the Tibbetts case in political terms.
TRUMP BLASTS MICHAEL COHEN OVER PLEA DEAL, PRAISES MANAFORT 
But Gingrich, who led the charge as Republicans in the House impeached then-President Bill Clinton over the Monica Lewinsky scandal in 1998, dismissed liberals who seized on the Cohen news to revive talk of impeaching Trump. He cited economic accomplishments during the Trump presidency, including low unemployment, job growth and higher wages.
"And in this world, the best that the left has to offer is to scream impeachment and live their lives in a frenzy?" Gingrich asked.
He summed up the choice in the midterms as, "There are the people who want to get things done, and there are the people who simply want to scream."
He said Democrats want to impeach Trump "because he is the most effective anti-left politician in my lifetime."
"He's not necessarily conservative," Gingrich said. "But he's unbelievably effective at being anti-left."
Gingrich acknowledged Trump's past is causing problems, as Cohen admitted to arranging hush money payments to several women for Trump during the campaign.
"I use to say that there's a big Trump, and a little Trump, and the big Trump is amazing and the little Trump gets in the way of the big Trump," he said.
But Gingrich expressed doubt the details of the Cohen case will matter to the president's supporters.
"I think for his base, they have basically absorbed the reality that Donald Trump did a lot of things over the years – that he really was a reality TV kind of personality," Gingrich said. "And I think they shrug 99 percent of it off."
Gingrich also seized on the revelation of White House Counsel Donald McGahn's extensive cooperation with Special Counsel Robert Mueller's team to argue that a Mueller-Trump interview is no longer necessary, saying investigators have enough information to wrap up the probe into Russia's election interference in 2016.
"There's no justification for Mueller to now go and say he needs more information," Gingrich said.
He added: "Remember, yesterday's conviction of Manafort had zero to do with Donald Trump. Zero. Except of course on the left, where it was an opportunity for an orgy of thrills and excitement."
https://www.foxnews.com/politics/gingrich-left-having-orgy-of-thrills-over-trump-team-convictions-but-tibbetts-case-more-important