Fox News Poll: Voters back spending cuts to boost economy by huge margins
By ,
Published December 20, 2015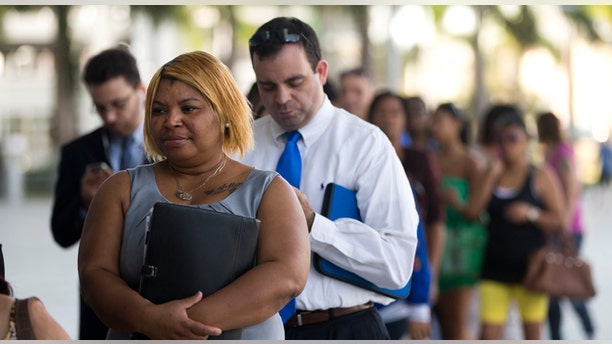 By massive margins, voters say they would rather see the government cut spending than increase it as a way to boost the nation's economy, according to a Fox News poll that showed, in hindsight, voters largely saying the 2009 stimulus did not work.
The poll showed that, by a 60-34 percent margin, voters say President Obama's $800 billion strategy for pulling the American economy out of its one-and-a-half year long recession did not deliver on its promise. While more than half of Democrats said they thought the stimulus worked, 87 percent of Republicans and 58 percent of Independents said they thought it did not.
Opposition to another round of stimulus runs two-to-one, according to the poll. This could be because 73 percent of voters polled say cutting government spending would be more likely to help strengthen the nation's economy -- as opposed to just 15 percent who believe increasing spending would do the trick.
While Obama reportedly has said he doesn't believe the government has a spending problem, the poll showed that out of 13 issues tested, more voters are "extremely" concerned about government spending than any other issue.
Even a majority of Democrats -- 55 percent -- agreed that cutting spending is the way to help the economy. Ninety-one percent of Republicans held that view.
Obama's State of the Union address Tuesday night is likely to tackle topics like taxes, the country's $16 trillion debt and the upcoming series of budget cuts known as sequestration -- which would add up to about $85 billion in defense and domestic cuts set to take effect March 1.
Obama and top congressional Democrats are spending three days at a retreat strategizing on how to battle Republicans who mostly want to use spending cuts to balance the budget. Obama claimed that Republicans would look to replace the sequester with cuts to entitlement programs such as Medicare and Social Security, while refusing to raise new tax revenue.
Republicans have said they are up for the debate with Democrats and argue that hiking taxes will only slow the economy. The GOP has said that since the fiscal crisis deal reached in January levied taxes on higher-income Americans, discussions over debt reduction going forward should only involve spending cuts.
Lawmakers will barely get a break before the battles begin again. March 27 is the expiration date for a stop-gap government funding measure. If Congress fails to come to a compromise on a new spending bill by that date, government agencies and programs would have to start shutting down.
The Fox News poll also showed that twice as many voters believe the country is weaker, rather than stronger, since Obama took office.
The poll of 1,010 registered voters was taken Feb. 4-6. It had a margin of error of 3 percentage points.
Fox News' Dana Blanton contributed to this report. 
https://www.foxnews.com/politics/fox-news-poll-voters-back-spending-cuts-to-boost-economy-by-huge-margins