Former Virginia Senator Jim Webb forms exploratory committee for 2016 White House run
By ,
Published December 20, 2015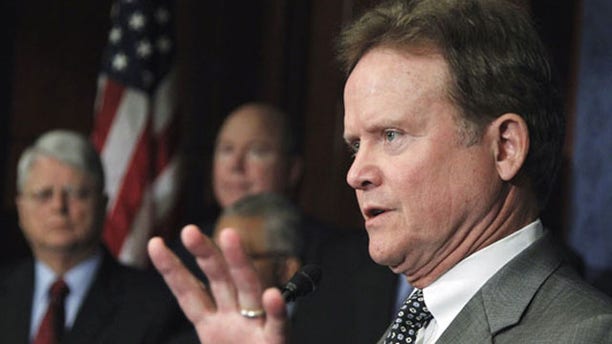 Former Virginia Senator Jim Webb says he has formed an exploratory committee to consider a campaign for the Democratic presidential nomination in 2016.
Webb unveiled the website for his exploratory committee in a message posted on his Twitter account late Wednesday. The move is the first official step in a possible challenge to former first lady and Secretary of State Hillary Clinton, who has long been thought of as the presumptive Democratic nominee, but has not yet announced whether she will run. The committee will allow Webb to raise money and travel the nation to test the waters for a potential campaign.
"A strong majority of Americans agree that we are at a serious crossroads," Webb wrote in a message posted to a website for his committee. "In my view the solutions are not simply political, but those of leadership. I learned long ago on the battlefields of Vietnam that in a crisis, there is no substitute for clear-eyed leadership."
Webb said the nation faces major obstacles in governing and points to domestic and foreign policy items that need to be atop the agenda. He said the U.S. needs to "redefine and strengthen our national security obligations, while at the same time reducing ill-considered foreign ventures."
The message from Webb included appeals to Democrats who have struggled during the economic recovery and criticized political leaders for being too close to Wall Street: "We need to put our American house in order, to provide educational and working opportunities that meet the needs of the future." He noted the stock market has nearly tripled during "this so-called `recovery"' while income levels and loans to small business owners have decreased.
Webb acknowledged he would face considerable challenges in a presidential bid, saying "early support will be crucial as I evaluate whether we might overcome what many commentators see as nearly impossible odds."
A former Marine, Webb was Secretary of the Navy under Ronald Reagan from May 1987 to February 1988. In 2006, he defeated Republican incumbent Sen. George Allen and served one term. In the message, he said he entered the race against Allen only nine months before the election and trailed by 30 percentage points before prevailing.
Webb cast himself as an outsider, saying, "In politics nobody owns me and I don't owe anybody anything, except for the promise that I will work for the well-being of all Americans, especially those who otherwise would have no voice in the corridors of power."
"All I ask is that you consider the record I am putting before you, and give me the opportunity to earn your trust," he said.
Webb, 68, has hinted that he might run for President for several months. He admitted in a September speech at the National Press Club in Washington that he was "seriously looking at the possibility" of throwing his hat into the 2016 ring. That same month, he visited the early voting state of Iowa, where he made about a dozen stops. Webb also made campaign appearances for Democrats this fall in New Hampshire, another key early voting state.
The field of possible Democratic presidential candidates includes Vice President Joe Biden, Maryland Gov. Martin O'Malley and others.
The Associated Press contributed to this report. 
https://www.foxnews.com/politics/former-virginia-senator-jim-webb-forms-exploratory-committee-for-2016-white-house-run