Coalition to hold national 'Gun Appreciation Day' amid calls for more gun laws
By ,
Published December 20, 2015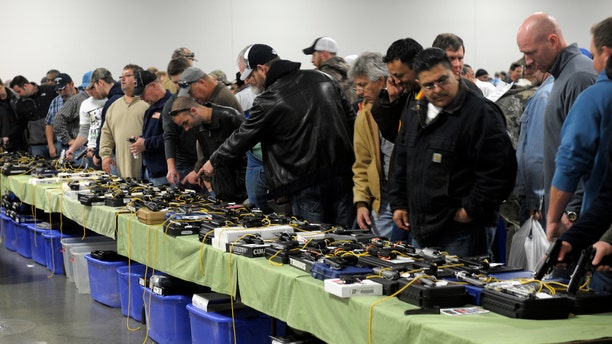 Firearms groups are banding together across the country with a so-called "Gun Appreciation Day" this month as part of a bid to check the increasingly vocal anti-gun movement.
Organizers of the appreciation day, set for Jan. 19, hope to achieve the same level of outpouring as one in August for Chick-fil-A, which had faced criticism after the fast-food chain publicly acknowledged its opposition to same-sex marriage.
The organizers are encouraging gun-rights supporters to "send a message" to President Obama two days before his second inauguration by "lining up around the block" at gun shops, ranges and shows with a copy of the Constitution, U.S. flags and a "Hands off my Guns" signs.
The effort comes as Vice President Biden on Wednesday began a series of White House discussions on gun control, part of his larger task force effort to gather ideas for legislation, then submit them to the president. He said Wednesday that the administration might use "executive orders" to achieve some of its goals.
The White House effort follows the fatal shootings last month at the Sandy Hook Elementary School in Connecticut in which 20 first-graders and six educators were killed.
Gun groups, though, have claimed new firearms regulations will not solve the problem. Larry Ward -- who is leading the appreciation-day effort and is president of the Republican consulting firm Political Media Inc. -- says Americas must act before the president makes a final decision.
"If the American people don't fight back now, Obama will do to the Second Amendment what he has already done to the First Amendment with ObamaCare -- gut it without a moment's thought to our basic constitutional rights," he said Monday in a statement.
Ward also said the event will be supported with an online, mailing and media campaign over the next two weeks that is expected to reach 50 million people.
The coalition behind the gun appreciation day includes the Second Amendment Foundation, Special Operations Speaks, Revolution PAC and the Conservative Action Fund.
"We need to ban politicians who assault our rights, not firearms that are used thousands of times a day to protect lives and property from criminal attack," said Alan Gottlieb, founder of the Second Amendment Foundation and chairman of the Citizens Committee for the Right to Keep and Bear Arms.
Biden met Wednesday with gun control groups including Mayors Against Gun Violence, co-founded by New York Mayor Michael Bloomberg, an increasingly strong voice in calling for more gun regulations. The vice president will hear from the other side Thursday when the National Rifle Association sends a representative to meet with the task force.
The president in the immediate aftermath of the Newtown, Conn., shootings calling for an end to gun violence, and said he would support tighter regulations including a ban on assault weapons and high-capacity ammunition clips.
California Sen. Dianne Feinstein has already vowed to introduce legislation to reinstate a 1994-2004 ban on assault weapons and the high-capacity clips.
Other suggestions include more-thorough background checks with a focus on potential buyers with mental illness.
https://www.foxnews.com/politics/coalition-to-hold-national-gun-appreciation-day-amid-calls-for-more-gun-laws