Ed Rollins: President Trump v. Speaker Pelosi -- let the battle begin
By Ed Rollins
Published November 30, 2018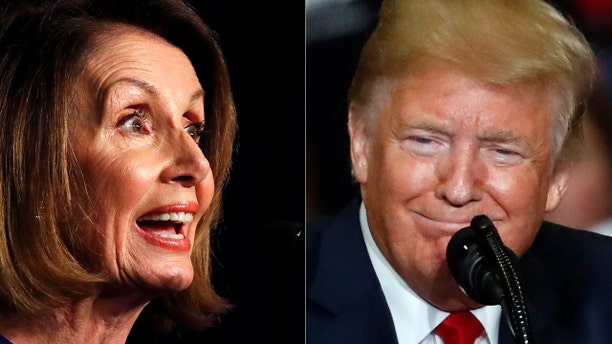 Mr. President, meet Speaker Nancy Pelosi, and let the battle begin.
Mrs. Pelosi again showed herself to be a master of the inside game of hardball politics, as she easily won reelection this week as the Democratic leader. She still has to win a majority of the House's votes on January 3 to again be elected speaker. But her support this week in the Democratic caucus vote was 203 yeas, 32 nos, with three empty ballots and one member absent.
No one had the courage or support to run against her. 218 votes guarantees her the win.
If you want a sure bet, put your money on Mrs. Pelosi regaining the speaker's gavel. It will be the first time since 1955 when Sam Rayburn, the legendary Texan, returned to the speakership for non-consecutive terms of the office.
I have watched Nancy Pelosi up close for four decades. I was the Republican chief of staff for the California State Assembly, and she was the Northern California Democratic Party chairman, when I first met her in the late 1970s.
My first impression was that she was smart, charming, articulate and tough, and certainly not to be underestimated. Nothing in the decades since has changed those impressions.
She became the California Democratic Party chairman in the early 1980s when I was President Ronald Reagan's White House political director. As a fellow Californian who grew up adjacent to Pelosi's San Francisco district, I paid a lot of attention to her activities.
Even though there are not many issues that she and I agree on, I have the utmost respect for her political talents. To underestimate her is a fool's mission. No one in modern political history grew up with better training or was better mentored than Nancy Pelosi.
The next two years will be all-out war. The battlefield will be the U.S. Congress. The final judges will be the voters in the presidential election of 2020.
To say she was born into politics is a very true statement. Her father, Thomas D'Alesandro Jr., the son of Italian immigrants, was a new member of Congress when she was born in Baltimore. She was the youngest of six children and the only daughter.
Her father had gone up through the ranks of local politics, having served in the Maryland House of Delegates, the Baltimore City Council, four terms in the United States Congress, and then as Mayor of Baltimore for 12 years from 1947 to 1959.
Pelosi's older brother, Thomas D'Alesandro III, was also Mayor of Baltimore from 1967 to 1971, after having served as president of the Baltimore City Council.
So Nancy grew up as the mayor's daughter and was his pride and joy through grade and high school. All the knowledge gleaned during her upbringing was multiplied many times over after she married Paul Pelosi, a native Californian, and moved to his hometown of San Francisco.
There she became the protege of the legendary California political boss, U.S. Congressman Phil Burton. Burton was a tough, crude, profane, liberal, anti-war activist who was a major player in the House of Representatives. In December 1976, Burton narrowly lost a bid to be House majority leader to Jim Wright of Fort Worth, Texas. The vote was 148 to 147.
Election to the majority leader position, in those days, was a guaranteed path to becoming speaker of the House. Congressman Burton was convinced that he had the votes going into the secret ballot, and spent the rest of his career looking for the betraying "Judas" who cut short his dream and set the path for Jim Wright to become House speaker.
I am convinced that Nancy Pelosi learned from Burton's lesson. Counting votes is an art form and no one does it better than she does. After Burton's sudden death in 1983, his widow Sala replaced him for one term, and on her deathbed, she endorsed Nancy Pelosi to replace her.
Pelosi was elected to Burton's seat and has held it for 15 terms. She has never been seriously challenged in one of California's safest seats and has become one of the most prolific fundraisers for her party.
The presumed House speaker's future challenge is this: With a diverse conference filled with many new members, how can she meet their expectations, which will be mostly unrealistic, liberal and expensive? At the same time, she will be pressured to meet the demands of many Democratic members who want to destroy President Trump and undo his agenda. Their highest priority is to impeach him – a totally unrealistic goal.
President Trump also learned his trade from his father. The New York construction business attracted some of the toughest players in town and the Trumps – father and sons – played rough and tumble with all the biggest and baddest developers around.
Politics was a way of life for Nancy Pelosi. Politics was a necessity for Donald Trump to get things done. They have separate agendas – hers is to stop him; his is to continue to accomplish what he can and get reelected.
She is a master of the inside game. He is the ultimate outsider – a street fighter who doesn't care what he needs to do to win. The next two years will be all-out war. The battlefield will be the U.S. Congress. The final judges will be the voters in the presidential election of 2020.
If Trump wins, his control of the Republican Party and its agenda continues. If Speaker Pelosi wins and Democrats hold the House, she will probably retire, but will pick the next generation of House leaders and their agenda.
Get ready to rumble.
https://www.foxnews.com/opinion/ed-rollins-president-trump-v-speaker-pelosi-let-the-battle-begin