Texas student plays with giant gator in graduation pictures: 'He's a real life dinosaur'
By Jennifer Earl, ,
Published August 06, 2018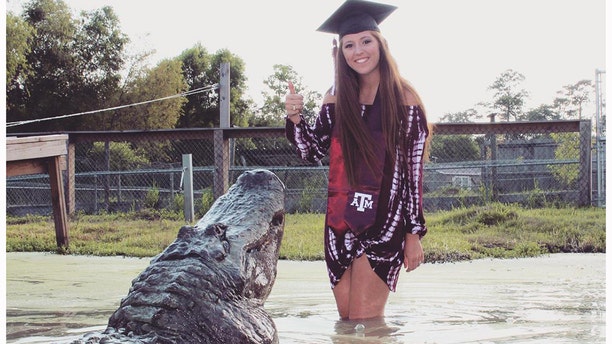 Makenzie Noland celebrated her upcoming college graduation by posing in her cap and stole with her good friend "Big Tex" — a nearly 14-foot-long alligator that lives in a wildlife sanctuary in Beaumont, Texas.
The soon-to-be Texas A&M University grad has been living at Gator Country for the past three months as she interns with the organization. During her time at the wildlife rescue, Noland has bonded with many of the 370 alligators on site, specifically Tex.
Over the past several months, Noland has been training with Tex — under the careful supervision of alligator experts.
"Tex is the one who let me into his pond. He does pick favorites, and I'm honored he likes me enough to let me get in there and play with him every day," Noland, 21, told Fox News.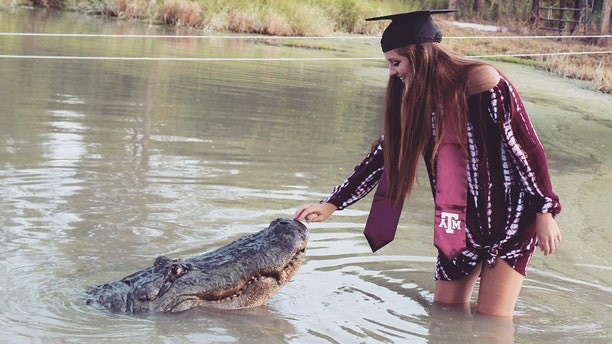 GIANT ALLIGATOR IN SOUTH CAROLINA ATTEMPTS TO SCALE FENCE TO ESCAPE TRAPPERS: 'THIS IS CRAZY'
Noland likens the gentle giant to a "puppy," as he often follows commands in order to get treats.
"Whenever you're training a puppy, you commend them for sitting down and give them a treat," Noland explained. "When I'm telling Tex to 'come here' using a hand motion I will reward him, tickle his nose and toss food in his mouth."
Noland's close bond with Tex influenced her decision to feature him in her graduation pictures. After all, the wildlife ecology major wanted to showcase her passion for animals — gators in particular.
"Every single time I get in the water with him I realize how huge of a creaturen he is. He's a real life dinosaur," Noland said, adding that she was honored to get the opportunity to work with him.
SHARKS, CROCODILE SPOTTED FEASTING ON WHALE IN 'RARE' DRONE VIDEO
On Friday, Noland posed for several photos with the gator and later shared them on Facebook with friends. To her surprise, the pictures went viral, garnering nearly 5,000 shares over the course of just three days.
Reactions to the photos — both positive and negative — have inspired Noland to continue her mission to educate the public.
"These alligators are a product of people feeding them," Noland said, explaining that the alligators taken in by the wildlife sanctuary were considered "nuisance" gators. "We'd rather leave them in their natural habitat."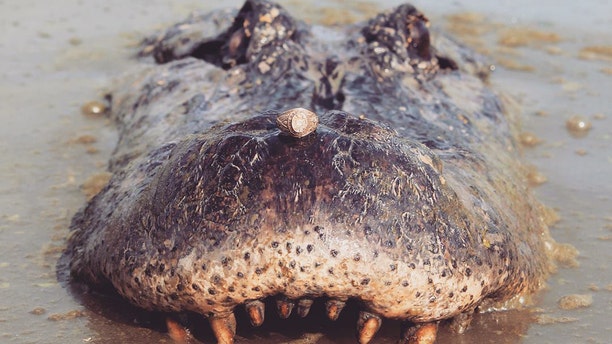 According to Texas Parks and Wildlife, it is illegal to feed wild alligators and could result in a fine as high as $500.
Some have criticized Noland for posting the pictures, calling the act dangerous and questioning why she would put her life in danger. But Noland wants to assure everyone that she always follows safety guidelines set out by the park and would never purposely put herself in any danger.
"I would never do anything to risk my own life. I'm doing things supervised. I'm trained," she said. "Animals can react differently to different situations. We look at all that behavior. If the animals aren't working well, then we're getting out of the water and letting them be."
https://www.foxnews.com/lifestyle/texas-student-plays-with-giant-gator-in-graduation-pictures-hes-a-real-life-dinosaur