'Monster' walleye fish caught in Iowa lake
By Madeline Farber, ,
Published April 26, 2018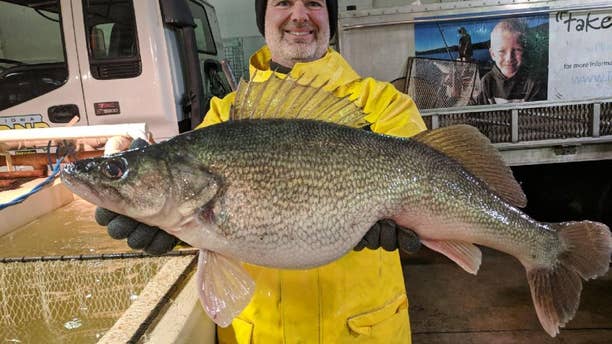 A "monster" walleye fish was caught in an Iowa lake, the state's Department of Natural Resources (DNR) announced on Tuesday.
The fish was caught by DNR employees who were collecting broodstock on Lake Rathburn, the agency said.
The walleye weighed 12.74 pounds and was 28.8 inches long. According to The National Wildlife Federation, walleye are typically 2.5- to 3-feet long and can weigh up to 20 pounds.
FLORIDA FISHERMAN CATCHES 'GRANDDADDY' OF ALL CATFISH
This isn't the first time the Iowa agency has caught this particular walleye — the fish was first caught and tagged in April 2014.
The walleye is named "for its opaque, cloudy-looking eye, which is caused by a reflective layer of pigment called the tapetum lucidum," according to the National Wildlife Federation.
After the fish was re-caught earlier this week, the DNR said it was released back into the lake.
https://www.foxnews.com/lifestyle/monster-walleye-fish-caught-in-iowa-lake