'Man Repeller' Leandra Medine Previews 'The Future of Fashion'
By , Stephanie Nolasco
Published February 21, 2017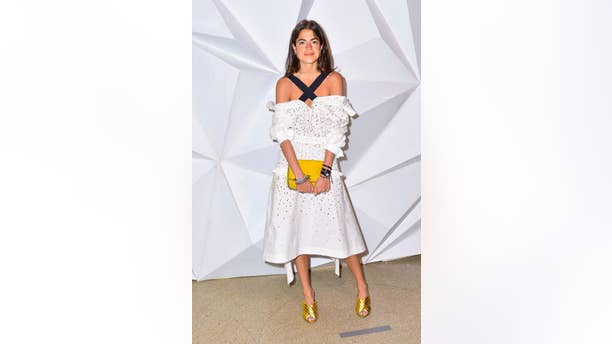 What is the future of fashion? Aside from time travel, the only way to know for sure is to visit the Fashion Institute of Technology.
This Thursday evening, FIT is hosting their highly anticipated annual runway show, "The Future of Fashion," to feature some of the most outstanding creations from the graduating students. Hosting the festivities is Leandra Medine, the founder and author of "Man Repeller" — and anyone with Internet access is familiar with Medine's expertise, as well as her wildly popular blog which expertly weaves style reporting with personal, humorous commentary.
A neon green bikini top over a lace blouse paired with hot pink capris? A straw hat featuring painted pineapples for winter? A dress made out of two silk scarves? Medine has worn it all — and documented it online.
Her site, which launched in April 2010, has paved the way for aspiring bloggers to showcase their personal style on social media. Medine has since published a book of essays, launched two podcasts, and employed a group of writers to inspire over two million followers across Facebook, Twitter and Instagram.
Needless to say, this powerhouse knows a thing or two about technology's impact on the fashion world.
"I have not seen any of the garments yet and thus can't quite speak to what the audience can expect, although I am sure we will see a lot of burgeoning talent in the making, and names that will become more and more familiar as the industry evolves and continues to grow," says Medine on the emerging designers featured at this year's festivities.
No matter what stylish surprises the students unveil, it's almost certain that they'll inspire viewers to take on a new trend or two.
"I'm really enjoying the shift away from the minutia of specific trends [to] the grander idea of personal style as a trend," says Medine. "Lately, that has meant a shift towards maximalist dressing — layers and prints and fabrics — and away from minimalism."
And what advice does Medine have for fashion bloggers, who can often be seen sitting in the front-rows, feet from the models on the catwalk, Snapchatting away? As expected, it's more challenging than ever to have your voice heard in an over-saturated blogosphere.
"Fashion blogging today is a very different business from when I started nearly six years ago, before it was actually even a business," says Medine. "I'm not sure that launching a blog in 2016 makes much sense."
But don't despair. Fortunately, there's still hope for writers and couture enthusiasts who are looking to follow in Medine's successful footsteps.
"There are so many portals out there, so much opportunity to have your voice heard across other platforms. Though the currency might change, the spending habit ever does: produce good, honest content. Period. Be critical and objective when you have to be, but don't be afraid to share a subjective opinion when that is necessary either." Medine says.
And like blogging, couture is changing its look for the future. At the recent Met Gala in New York City, countless stars celebrated the theme which manifested in illuminated gowns, robotic jumpsuits and sculptural, android-esque pieces loaded with metallics.
But you don't need to dress like a transformer to make heads turn: For that, Medine encourages her readers to go where no shopper has gone before, and to take chances.
"I can wax poetic about believing in yourself and trusting yourself and going with your gut when you feel great in what you're wearing even if it's a bit 'out there,' but if you're not willing to go out on a limb, you'll never actually know how it feels to be in complete control of your own style," she says. "It's so liberating. Trust me."
And while one can only anticipate what this year's students will showcase at Thursday's show, Medine gives us one essential tip on how we can have an more stylish tomorrow.
"Very simply, put on something that makes you feel great," says Medine. "It sounds like a no-brainer — mostly because it is one."
https://www.foxnews.com/lifestyle/man-repeller-leandra-medine-previews-the-future-of-fashion