Doc blames hotel mattress after Brazil's Marcelo exits World Cup game with back issue
By Alexandria Hein, ,
Published June 28, 2018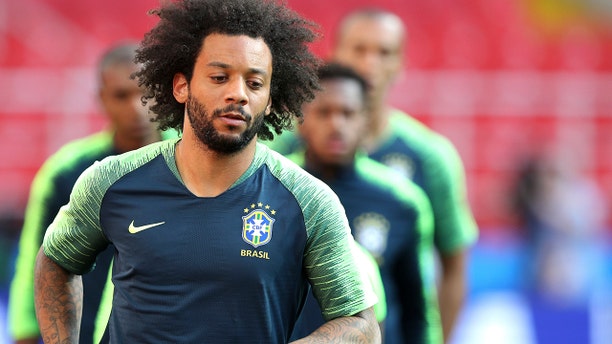 Brazil's team doctor said a soft mattress may to be blame for star Marcelo's back spasms. The left back player limped off the field in the 10th minute of Wednesday's game against Serbia and was replaced by Filipe Luis. Brazil eventually won 2-0.
Team doctor Rodrigo Lasmar said that the substitution was precautionary after the 30-year-old felt his back "lock up," ESPN reported.
HOPE SOLO CALLS US SOCCER A 'RICH WHITE-KID SPORT'
"Marcelo has a medical history with this kind of injury," Lasmar said at Spartak Stadium after the game. "Maybe it was the hotel's mattress, which was a bit more soft than usual. But [the injury] happened because he made a rotation movement and felt uncomfortable after. He could not continue in the game, because his muscles became locked up."
Brazil will face Mexico next in the round-of-16 Monday. Lasmar said he was optimistic about Marcelo's chances of returning to the field, according to Goal.com.
"Our expectation is good, but we have to be calm and wait for the next few days," he said.
https://www.foxnews.com/health/doc-blames-hotel-mattress-after-brazils-marcelo-exits-world-cup-game-with-back-issue