Breast cancer survivor hangs 'no breastfeeding zone' banner after giving birth
By Alexandria Hein
Published October 19, 2018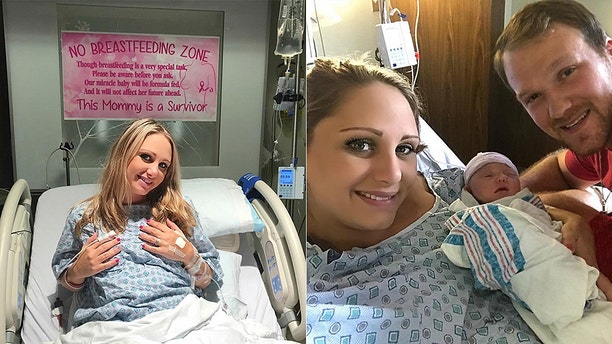 A new mom who is also a breast cancer survivor has received kudos from supporters nationwide after posting a photo of the "No breastfeeding zone" banner she hung above her maternity bed. Meghan Koziel, who gave birth to baby Kendra Jane on Sept. 15, wrote that she underwent a mastectomy after her diagnosis three years ago, and therefore cannot breastfeed her child.
The full sign, which is pictured behind her hospital bed, read, "No breastfeeding zone. Though breastfeeding is a very special task, please be aware before you ask. Our miracle baby will be formula fed, and it will not affect her future ahead. This Mommy is a Survivor."
MICHIGAN PHARMACIST WHO ALLEGEDLY DENIED WOMAN MEDICATION FOR MISCARRIAGE NO LONGER WORKS FOR COMPANY 
Alongside the photo shared on Instagram, Pittsburgh-based Koziel, who had reconstructive surgery since her 2015 procedure, said that with the banner she wanted to dispel any confusion after her daughter was born. The post garnered 6,780 likes, with commenters cheering her on.
"One of the most powerful post I've seen today, you are so strong," one follower wrote.
According to People magazine, Koziel, an occupational therapist, told Parents.com that she had considered getting breast milk from a milk bank, but that it wasn't covered by insurance, and that milk from outside donation groups had "no way of being tested."
TEXAS INFANT BORN WITH CLEFT LIP SMILES FOR FIRST TIME AFTER LIFE-CHANGING SURGERY
Koziel has shared her journey to motherhood with her 18,600 followers, as well as her ups and downs with breast cancer, including egg retrieval, IVF, her reconstructive surgery and when she walked in New York's Fashion Week.
"To all the mommies like me facing complicated health histories or facing social media trolls for how you're raising your child, I would say … keep on being you!" she told Parents.com. "We all must make decisions that are best for our families, and it is truly no one else's business if it doesn't' affect them! Raise your child surrounded by love and with happiness and that by will be amazing."
According to BreastCancer.org, about 1 in 8 women in the U.S. will develop invasive breast cancer over their lifetime, with an estimated 266,120 new cases expected to be diagnosed in 2018, and an additional 63,960 cases of non-invasive cases.
https://www.foxnews.com/health/breast-cancer-survivor-hangs-no-breastfeeding-zone-banner-after-giving-birth