Restaurant robbed by gun-wielding thief in Coca-Cola costume
By ,
Published September 26, 2017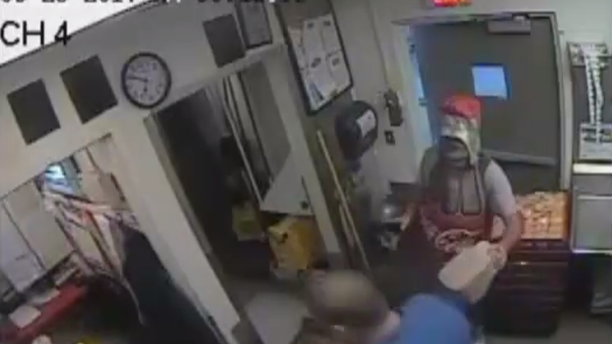 A man in Kentucky is wanted by police after he dressed up in a Coca-Cola bottle costume and robbed a fast-food restaurant, reports said.
The suspect showed up to the Rally's restaurant in Henderson, K.Y. early Monday morning before it was open, dressed in a Coca-Cola bottle costume, with a gun in his hand, according to reports from Fox 4.
The Henderson County police released a clip of the surveillance video from the incident, which shows the man enter what appears to be the back of the restaurant, gun in hand, and force the manager back before following him into an office.
He reportedly managed to escape with at least $500 before he drove away from the scene in a gray minivan, reports said.
The manager was the only person in the building at the time and police said he was not hurt, according to reports from 14News.
The company is reportedly offering a $5,000 reward for anyone with information on the thief.
https://www.foxnews.com/food-drink/restaurant-robbed-by-gun-wielding-thief-in-coca-cola-costume