Raising Cane's employees fired after viral video shows worker stirring tea with arm
By Alexandra Deabler, ,
Published June 22, 2018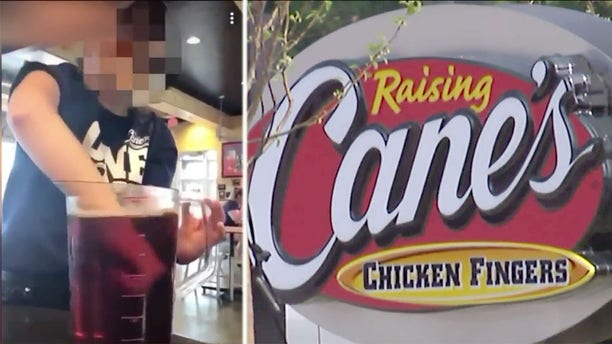 A video of a Raising Cane's employee stirring tea with her forearm has gone viral online, resulting in the termination of those responsible.
The video was taken inside the Kansas City, Mo., location of the fast-food chain and then seemingly posted to Snapchat before being posted on Facebook, where it has been viewed more than 875,000 times.
CUSTOMER REVOLTED AT GROSS INSTRUCTIONS ON BURGER RECEIPT: 'PLEASE SPIT IN IT TOO'
In the video, a female employee is seen stirring tea with her forearm in a pitcher and then pouring the drink into the tea dispenser.
Written over the short clips are, "Don't drink tea from Cane's" and "She tryflin [sic] cause [sic] we don't care no more."
Another employee who is filming can be heard laughing off screen.
The video resulted in swift action from the fried chicken chain. The president and COO of the company, AJ Kumaran, told FOX4's Zac Summers that as soon as he learned of the video Tuesday night, the restaurant opened an investigation and then terminated the employees responsible.
The restaurant released a statement to FOX4:
"At Raising Cane's, we take pride in what we do and work very hard to train our 19,000+ Crewmembers to uphold the highest standards, which our customers have come to expect from us. After reviewing the video of the isolated incident at the Tiffany Springs Restaurant, we are incredibly disappointed by the actions of these Crewmembers. We take the safety and quality of our food very seriously, and we will not tolerate any actions that compromise these standards. As soon as we were made aware of the incident, we took immediate action, including launching an investigation, terminating the Crewmembers and contacting local authorities to support their review of the incident. This is not who we are as a company, and we hold ourselves to a higher expectation. Moving forward, we will work to ensure additional training for all Crewmembers to reinforce how we expect our team to embody Cane's values in everything we do."
Customers are happy with the restaurant's speedy response, stating the female employee's actions were intentional and reprehensible.
"To video yourself doing it says that it was very purposeful," Tatiana Camacho, whose daughters love to visit the restaurant chain, told FOX4. "It looks like they're enjoying being gross."
"It's not sanitary and people could get really sick from that because they don't know where her hands have been," added Grant Martin, who used to work in the fast-food industry.
FOLLOW US ON FACEBOOK FOR MORE FOX LIFESTYLE NEWS
"I appreciate that [Kumaran] took action quickly and there weren't any excuses because that was pretty inexcusable," Camacho said to FOX4.
Raising Cane's plans to hold additional training for their employees in the future.
https://www.foxnews.com/food-drink/raising-canes-employees-fired-after-viral-video-shows-worker-stirring-tea-with-arm