Pumpkin Spice Protein Bake
By , Carrots n' Cake
Published October 11, 2017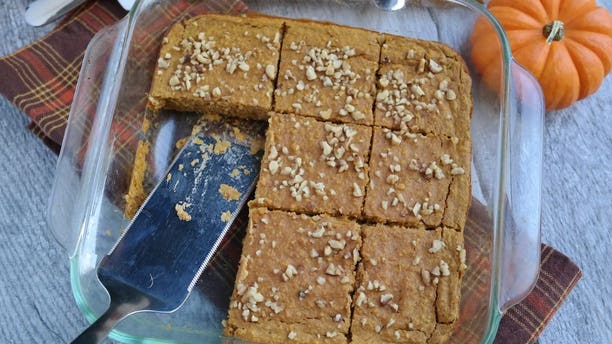 Tis the season of pumpkin spice, but who wants all of those calories? Whip up a batch of these low calorie, Muuna cottage cheese bars Cakes n' Carrots to get your fall fix.
Cook Time:35 min
Prep Time:10 min
Total Time:45 min
Servings: 6
Ingredients:
1.5 cups quick oats
5.3 ounces Muuna lowfat plain cottage cheese
1 cup canned pumpkin
1/3 cup maple syrup
2 eggs
1/2 cup liquid egg whites (or 3 whites from shell)
2 tsp pumpkin pie spice
1 tsp vanilla extract
2 tbsp finely chopped walnuts
Preparation:
Preheat oven to 350 degrees F. Combine above ingredients, except walnuts, in a food processor for about 60 seconds. Batter should be a little chunky.
Prepare a 9 X 9 baking pan with non-stick cooking spray and then pour the batter inside. Smooth the top of the batter with a spatula and then sprinkle with walnuts.
Bake for 32-34 minutes until cooked all the way through. Remove from oven and allow to cool for about 5 minutes before serving. Enjoy with maple syrup or a big scoop of Muuna cottage cheese.
https://www.foxnews.com/food-drink/pumpkin-spice-protein-bake