Patrick Stewart eats 'best' pizza of his life, stops to take photo with pizzeria staff
By Michael Bartiromo, ,
Published January 08, 2018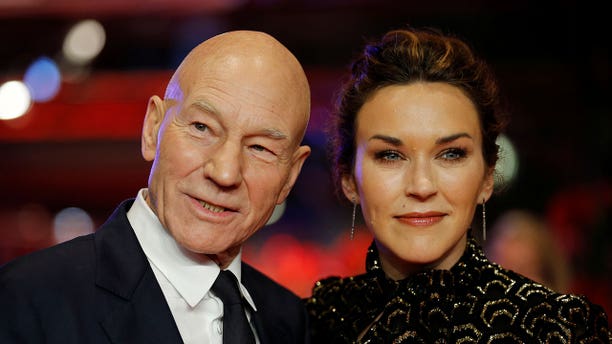 Despite eating his very first "slice" of pizza at the ripe old age of 72, English thespian Sir Patrick Stewart — now 77 — has reportedly declared New Haven-style pizza to be the "best" he's ever eaten.
Stewart, along with his wife Sunny Ozell, made a trip to New Haven, Conn., last week and stopped at the city's famed Frank Pepe's Pizzeria Napoletana for a couple of pies, according to Ozell's Instagram account. And while Ozell, 38, claimed to be quite impressed by her "mighty and compelling" white clam pizza, she wrote that Stewart was far more enamored with the olive-topped pie he ate with a knife and fork.
"[Stewart's] was also so tasty he proclaimed it the best pizza he'd ever eaten (and, knowing him like I do, I know WHY he made that claim: the crust. Thin and crispy all the way through. He's unnerved by "doughiness", and fails to see the merit in the pliant and supplicant yield of a proper Napoletana pie. I digress)," wrote Ozell.
Stewart also posed for a photo with the staff while "passing through" the city, reports the Connecticut Post, and his wife added that she and Stewart were still talking about their garlicky, salty pizzas well after they had finished.
"Yay Frank Pepe's and yay #newhavenpizza," wrote Ozell.
SEE PATRICK STEWART EAT A CHICAGO-STYLE PIZZA FOR THE FIRST TIME
Stewart's strange relationship with pizza first made headlines in 2013, after he tweeted a photo of himself enjoying his first ever "slice" at a New York pizza parlor. Stewart, however, was later forced to clarify that he had eaten pizza before — just never by the slice, with his bare hands.
In Stewart's defense, Frank Pepe's, which opened in 1925, doesn't sell pizza by the slice, either. Furthermore, it's only one of several popular New Haven pizzerias to serve New Haven-style pizza — or, as it's regionally known, "apizza" (pronounced ah-beetz) — which is traditionally made in coal ovens, characterized by a thin, charred crust, and sold by the "pie" rather than by the slice.
FOLLOW US ON FACEBOOK FOR MORE FOX LIFESTYLE NEWS
Pizza purists would have a hard time arguing with Stewart's assessment of Pepe's "apizza," too. The Daily Meal voted Frank Pepe's white clam pizza to be the best in America in 2017. Meanwhile, several other pies from nearby New Haven restaurants — including Modern Apizza the now-closed Sally's Apizza — ranked third and eighth on Daily Meal's 2017 list.
https://www.foxnews.com/food-drink/patrick-stewart-eats-best-pizza-of-his-life-stops-to-take-photo-with-pizzeria-staff