Former Starbucks employee suing company for 'discrimination' after telling boss about transition
By Michelle Gant, ,
Published August 02, 2018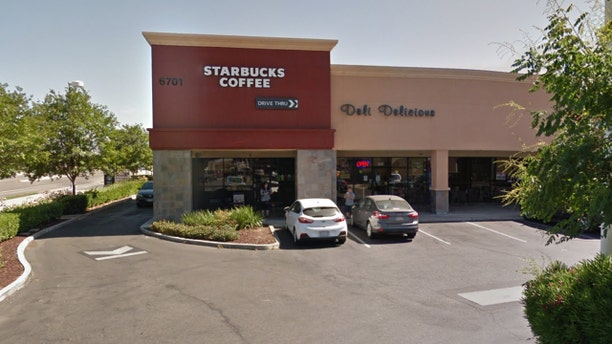 A transgender woman is suing her former employer, Starbucks, for harassment and discrimination, claiming she was mistreated after revealing her plans to transition from male to female.
Maddie Wade filed the complaint with the Fresno Superior Court, which alleges her manager, Dustin Guthrie, treated her differently after she told him she was going to start hormone therapy and have facial feminization surgery, the Fresno Bee reports.
According to the lawsuit, Wade claims Guthrie expressed concern due to his personal religious beliefs and alleges that his treatment toward her began to change and her hours were cut, ABC 30 reported.
KOREAN AIR PASSENGER DRAGGED FROM PLANE, FOOTAGE SHOWS
"We had a great working relationship beforehand, so it was kind of easy to see the difference, and over time I just started getting treated worse and worse," Wade told ABC 30.
Wade also allegedly discovered posts on her manager's Facebook page containing offensive comments and jokes about transgender people.
In March, Wade transferred to a different Starbucks location but felt that the discrimination followed her, so she eventually quit on the advice of her doctor, ABC 30 reports.
"I loved my friends and colleagues at Starbucks and expected to have a long-term career with the company," Wade said in a statement to Fox News. "It was humiliating to come to work every day and be treated with no dignity or respect. I never would have expected this kind of behavior from a fellow employee who failed to represent the culture and ethics that have come to embody Starbucks as a global brand."
The lawsuit is seeking unlimited damages, claiming the loss of a job and health insurance has forced Wade to stop transitioning, according to the Fresno Bee.
Wade told ABC 30 she isn't upset with Starbucks, but rather the employees whom she claims mistreated her. "I love Starbucks […] I wouldn't say anything negative about them just the individual that represents them."
A Starbucks spokesperson told Fox News the company has "zero tolerance for the harassment of our partners or customers" and they strive to "create a culture of warmth and belonging, where everyone is welcome."
"We encourage all of our partners to alert their local leadership the moment they feel uncomfortable or unsafe at work. In those instances where partners don't want to speak with their manager or choose to remain anonymous, we have processes in place that allow them to provide details over phone, email or fax."
Wade claims despite reporting her mistreatment to Starbucks, the company didn't do anything about it. "Starbucks' response to my lawsuit that it supports transgender employees is inconsistent with how I was treated. The company had a full opportunity to investigate the facts and take action to protect me and allow me to return to work but didn't do anything," Wade told Fox News.
Her attorney, Arnold Peter, said the way the company responded to Wade's complaint wasn't adequate. "Given Starbucks socially-progressive and forward-thinking public positions on gender equality, it's troubling to see a situation that seems to starkly contrast with the broader messages of the company," Peter said in a statement to Fox News. "Clearly, in this case the company failed to protect a dedicated and hardworking employee when she was at her most vulnerable."
Last month, the coffee chain announced expanded health insurance benefits for transgender procedures not typically covered by other plans. Starbuck's insurance plans now not only covers gender reassignment surgery, which has been covered since 2012, but also "a host of procedures for transgender partners in the U.S. that were previously considered cosmetic, and therefore not covered, such as breast reduction or augmentation surgery, facial feminization, hair transplants and more," according to a press release.
FOLLOW US ON FACEBOOK FOR MORE FOX LIFESTYLE NEWS
"The approach was driven not just by the company's desire to provide truly inclusive coverage, and by powerful conversations with transgender partners about how those benefits would allow them to truly be who they are," said Ron Crawford, vice president of benefits at Starbucks.
https://www.foxnews.com/food-drink/former-starbucks-employee-suing-company-for-discrimination-after-telling-boss-about-transition