California Bakery Offers Doughnut Stuffed With a Pop Tart
By ,
Published February 19, 2017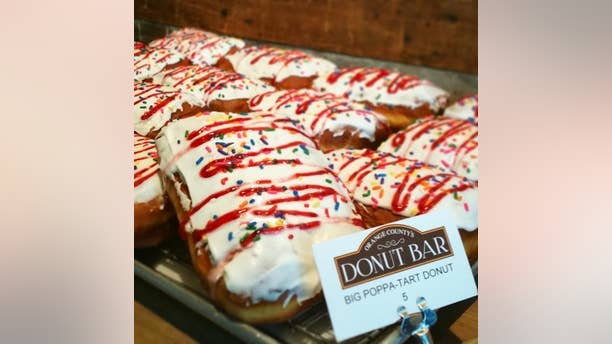 You can stuff almost anything inside a doughnut and we'd probably eat it. Champagne? Habanero peppers? A hamburger patty with eggs and bacon?
That said, you can imagine our excitement when we first heard about the OC Donut Bar's newest creation, the "Big Poppa-Tart Donut." If you haven't already figured it out from the title of our article, this isn't just a doughnut in the shape of a Kellogg's Pop Tart, or simply a doughnut that emulates the flavor of a Kellogg's Pop Tart — this is a Pop Tart-shaped doughnut impregnanted with an actual, honest-to-goodness Strawberry Pop Tart.
Perhaps we'll allow this young lady from the Donut Bar to explain:
Now, depending on how you feel about Pop Tarts in general, the Big Poppa-Tart Donut may not exactly be your "thing." Not to worry, though, as Donut Bar offers a revolving selection of ring-shaped treats that has, at times, included the Samoa Donut (based on the Girl Scout Cookie of the same name), the Monte Cristo Donut, and even the Root Beer Float Donut with a cherry on top, pictured below:
If you're curious to try a Big Poppa-Tart Donut and you live in the Southern California area, Donut Bar boasts locations in both Fountain Valley and San Diego.
As for the rest of us, we'll have to settle for the next best thing: alternating between spoonfuls of strawberry jelly and cupcake frosting, just like we do every Tuesday night.
https://www.foxnews.com/food-drink/california-bakery-offers-doughnut-stuffed-with-a-pop-tart