Tom Hiddleston mocked for out-of-touch Golden Globes acceptance speech
By ,
Published January 09, 2017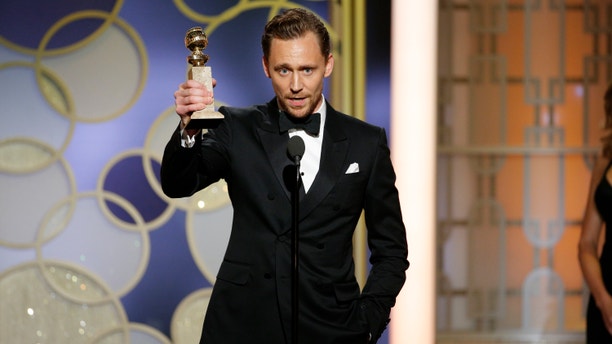 Tom Hiddleson might have won an award at last night's Golden Globes, but he walked away a loser for his bizarre acceptance speech.
The British star, who won best actor in a miniseries or television film for "The Night Manager," used his stage time to recall his time in Sudan doing charity work.
"I recently went to South Sudan...with the United Nations Children's Fund. I do a little bit of work with them, try to spread the word as best I can," he told a bored-looking audience.
Things took a strange turn when Taylor Swift's ex-boyfriend shared that his television show brought happiness to medics in the country.
"One night we were having a bite to eat at the canteen, where we were staying, and a group of young men and women tottered over to the table, and we were all having what they call a 'dirty beer' in humanitarian language," he said. "They were a group of Médecins Sans Frontières doctors and nurses. And they wanted to say hello because during the shelling the previous month, they had binge-watched 'The Night Manager.'"
Fans immediately took to Twitter to slam the actor for his "boring" and self-serving acceptance speech.
And Hiddleston wasn't done yet.
He concluded, "And the idea that I could provide ― or that we could provide ― some relief and entertainment for the people who worked for UNICEF...who are fixing the world in the places where it is broken, made me immensely proud."
Good for you, Tom.
He told TMZ of the backlash, "We all just have to do the best that we can to help each other out."
https://www.foxnews.com/entertainment/tom-hiddleston-mocked-for-out-of-touch-golden-globes-acceptance-speech