'Skins' Continues Ratings Decline; What Went Wrong With Heavily Hyped Show?
By Meagan Murphy, ,
Published April 08, 2016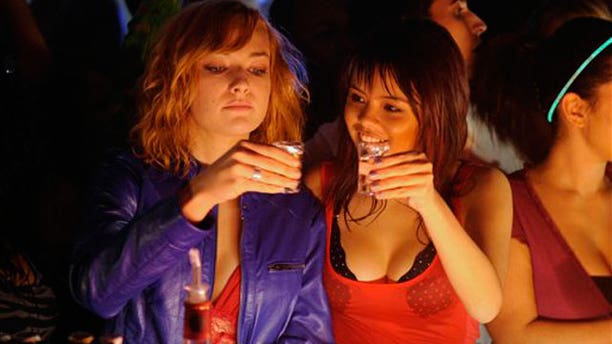 Not quite a million people tuned in to watch the fifth episode of MTV's controversial teen drama "Skins" last Monday night, a major drop from the 3.2-plus million people who watched the premiere on January 19.
By means of comparison, despite outcry from various Italian-American groups over perpetuating negative stereotypes, the first season of "Jersey Shore" built on its lack-luster premiere of 1.375 million viewers to reach over 3 million by its fifth episode, becoming MTV's most-watched show.
But halfway through the first season of "Skins," MTV is staying true to its promise to air all 10 episodes, despite a parent's group's request for a federal investigation into whether it constitutes child pornography, the aforesaid declining viewership, and, most important for the network's bottom line, a continued lack of advertiser support.
"At this point, the only advertising that you see on the show, aside from Clearasil, are movie trailers and various direct marketing type of things," Dan Isett, director of public policy for the Parents Television Council, tells FOX411. "So, there's virtually no mainline commercial support for this show. There's no economic reason to keep 'Skins' on the air. If I were a Viacom shareholder, I'd be upset that my corporate management is going out of their way to lose me money by putting on this show."
The Parents Television Council is the watchdog group that called for the show to be investigated for possibly being child pornography.
However, a marketing experts says "Skins" could be valuable to Viacom if it helps keep the MTV brand "edgy," despite its weak ratings.
"The show has been losing its traction pretty quickly, but from everything I know about Viacom, they look at their programs not only for audience size, but also as a promotion for MTV," marketing expert Adam Armbruster explained. "They look at it in terms as a kind of 'halo' effect—the show may not get great numbers, but it brings more attention to the network itself, supporting the brand. MTV sees itself as being dangerous, edgy, anti-authority—and 'Skins' is right in MTV's sweet spot for what the brand is all about."
And MTV definitely seems pleased with all of the press the controversy surrounding "Skins" has created.
"I think it's always good when people are talking about you and people are certainly talking about ('Skins')," MTV programming chief David Janollari told the Hollywood Reporter last week.
But aside from the outrage over the racy content of "Skins," the show itself hasn't received much interest from viewers or buzz on the Internet.
"Quite frankly—no one I know watches 'Skins'," TV critic and editor of bsideblog.com, Ben Mandelker, tells FOX411. "Absolutely no one is talking about 'Skins' on the Internet. Maybe in some forum, somewhere, but it's not being talked about on Vulture, Gawker—I'm not seeing links on Facebook, I'm not seeing things on Twitter. I forget the show is even on. I don't even know when it's on, to be honest."
Mandelker said one reason is the young actors on the show—some as young as fifteen—make some adults uncomfortable. "If you've seen pictures of this cast, they look sickly," he said. "Not only do they look sickly, they actually look their age—and they're all shirtless. There's sort of an 'ick' quality to it. And 'Skins' seems to take itself very, very seriously. Ever since they first started showing ads for it last year, it just didn't make sense. You just saw all of these wasted, malnourished kids ..., and it just wasn't appealing. It totally misses the mark, whether it's because it gives you that 'icky' feeling or because it doesn't look like a fun show."
Even some teenagers, the show's target audience, find the U.S. version of the show lacking in authenticity.
"I watched all three seasons of the British version of 'Skins,'" 16-year old Isabel Coleman of New York, NY, tells FOX411. "I've only seen a couple of the American episodes, but I feel it is way blown out of proportion of what teenagers actually do. Not everyone throws, like, these massive house parties and gets drunk and high and all sorts of crazy stuff. It's kind of unfair to teenagers to depict them like that—not all of us are like that, obviously. I think the British version did a really good job of getting into the personal lives of the characters as individuals, but the American version is, like—you don't really get too in-depth with the characters."
I think 'Skins' is very vulgar and it's a bad portrayal of teenagers, because not all teenagers are like that," says 17-year old Isabella Ramos of Los Angeles, CA. "Not all teenagers party, some stay home and study for college."
"The show is a little dramatic and puts teenagers into situations that aren't actually true," explains Claire Fogarty, 15, of New York, NY. "'Skins' is not really realistic—they make things more dramatic than real life really is."
"I don't know where the show takes place, but I know that it's not every weekend that a 15-year old girl can dress up in some crazed outfit and go out on the town and stuff," adds Coleman. "To be honest, it's boring, but we're more or less doing homework every second of our lives."
https://www.foxnews.com/entertainment/skins-continues-ratings-decline-what-went-wrong-with-heavily-hyped-show