Several fake Trump stars reportedly appear on Hollywood Walk of Fame
By Elizabeth Zwirz, ,
Published August 09, 2018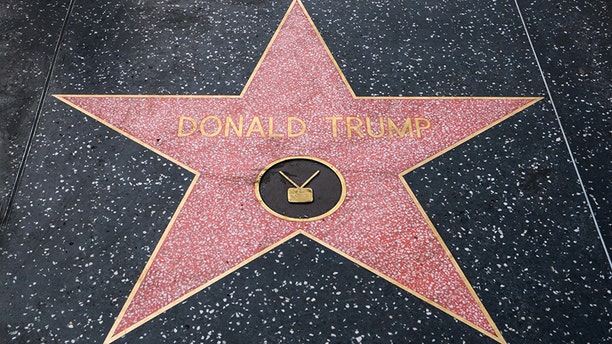 Several fake stars bearing Donald Trump's name reportedly dotted empty spaces on the Hollywood Walk of Fame on Thursday.
An unnamed conservative street artist took credit for the move, according to The Hollywood Reporter, and was behind adhering a number of laminated, vinyl stars to the iconic sidewalk.
ANTI-TRUMP VANDALISM SWEEPS COUNTRY: YACHT, HOLLYWOOD STAR LATEST TARGETS
It was reportedly done in response to Trump's actual star getting vandalized last month and a resolution passed earlier this week by the West Hollywood City Council asking to have the president's star removed.
"Rip up the president's Walk of Fame star or try to have it removed — like you're the mayor of West Hollywood or something — and 30 more will pop up," the anonymous individual told THR.
WEST HOLLYWOOD PASSES RESOLUTION TO REMOVE PRESIDENT TRUMP'S HOLLYWOOD WALK OF FAME STAR
The fake awards cost the individual and his team – dubbed "The Faction" -- $1,000. "A young and anonymous entrepreneur" helped fund the group's objective, according to The Hollywood Reporter.
While the artist asserted that the collection of stars "could last there for 10 years" if no one decided to remove them, an employee of Ripley's Believe It or Not! told the outlet that they were taken off due to a concern that vandalism would happen again.
"Not only would the star be destroyed, but it would damage our property," the employee said.
Fox News' Julius Young and Morgan M. Evans contributed to this report.
https://www.foxnews.com/entertainment/several-fake-trump-stars-reportedly-appear-on-hollywood-walk-of-fame