Pete Davidson copies fiancée Ariana Grande's years-old neck tattoo
By Zoe Szathmary, ,
Published September 24, 2018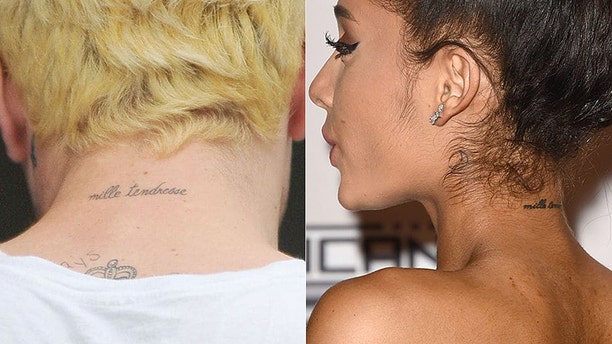 Ariana Grande fans may think they're seeing double when they spot Pete Davidson's latest tattoo.
The comedian was reportedly spotted in New York City Thursday with body art that mimicked one of his fiancée's pieces.
The newly inked phrase on the back of his neck featured the words "mille tendresse" in cursive – a French phrase that translates to "a thousand tendernesses."
Grande, 25, got the same expression inked behind her neck four years earlier.
TIGER WOODS EMBRACES GIRLFRIEND ERICA HERMAN AFTER GOLF GREAT'S FIRST TOUR VICTORY SINCE 2013
"Breakfast at Tiffany's" fans may remember the line from the 1961 movie.
"Bless you, darling Fred. Please forgive the other night," socialite Holly Golightly, played by Audrey Hepburn, says in the film. "You were an angel about the whole thing. Mille tendresse."
JUSTIN THEROUX BREAKS SILENCE ON 'PAINLESS' JENNIFER ANISTON BREAKUP FOR THE FIRST TIME
It reportedly marks the fourth identical tattoo the couple shares.
They already have "Reborn," "H2GKMO" – "Honest to God, knock me out" – and cloud tattoos, Page Six reports.
https://www.foxnews.com/entertainment/pete-davidson-copies-fiancee-ariana-grandes-years-old-neck-tattoo