Natalie Morales Snubbed? Savannah Guthrie Replacing Ann Curry
By Alexandra Gratereaux, ,
Published January 10, 2017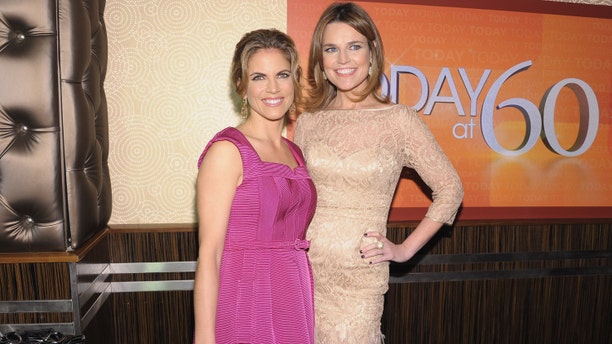 Natalie Morales will not be the "Today" show's new co-anchor with experienced journalist Matt Lauer. The New York Post is reporting that Savannah Guthrie, according to sources, will be officially starting as Ann Curry's replacement during Friday's taping on the "Today" show.
Unlike Curry's emotional and somewhat awkward goodbye on live TV on the second hour on "Today" on Thursday, sources tell the tabloid that no on-air announcement will be made for Guthrie's new gig.
The New York Post says that NBC will be sending a statement making the big news about Guthrie "sometime during the day, after the show has aired."
The tabloid also claims that Guthrie's promotion was approved by "every high-level executive at NBC." Despite becoming the new co-anchor at "Today," she will remain NBC's chief legal analyst.
So did Morales get snubbed?
Earlier this week there was speculation that veteran journalist Natalie Morales was going to tell the "Today" show to take a hike if she was not offered the co-host gig with Matt Lauer.
Morales, who is Puerto Rican and Brazilian, is technically next in line to take over as No. 2.
If Morales is passed over for the job, which she has reportedly sought for years, she's leaving, a source told the New York Post.
For now, Guthrie has kept mum about the job offer.
Morales has been with the "Today" show since 2006. She was named as a possible candidate to replace Meredith Vieira when she stepped down as co-anchor last year. This time around, her name has been mentioned but most of speculation as to who will be offered the job has centered around Guthrie and Hoda Gotb, who co-hosts the show's fourth hour.
"This will be the second time [Natalie] has been passed over for the top job. And she's not happy," the source told the Post.
When NBC Universal was contacted they said the rumors about Morales' departure were "totally untrue."
"Natalie couldn't be happier in her current role," another source told the New York Post.  
Curry bid farewell as co anchor of the "Today" show on Thursday.
Her eyes teary and her voice hoarse, the anchor confirmed the news in a live Thursday broadcast of the "Today" show as her co-hosts Matt Lauer, Al Roker, and Natalie Morales told Curry how they have loved working with her.
"This is not easy to say, but today will be my last morning as a regular co-host on "Today," said Curry. "I am so grateful, especially to all of you who watch… We often call ourselves a family, but you [viewers] are the real 'Today how' family."
Curry thanked the audience for their support.
"Every time I wake up I will be missing you," said Curry. "For all of you who saw me as a groundbreaker, I'm sorry I couldn't carry the ball to the finish line," Curry continued, her voice cracking."But man, I did try."
NBC reportedly decided to let go of Ann Curry because of a ratings plunge.
The show was the top morning show for 852 weeks, until ABC's "Good Morning America" broke their winning streak in April.
https://www.foxnews.com/entertainment/natalie-morales-snubbed-savannah-guthrie-replacing-ann-curry