Latino Celebrities Have Higher Profile than Ever in 2012 Election
By Alexandra Gratereaux, ,
Published January 10, 2017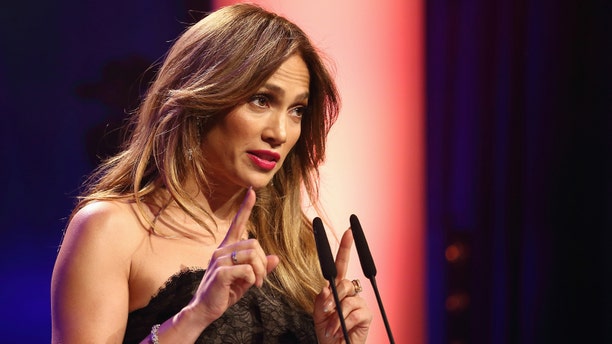 Taking time from her successful world tour, running her perfume lines and acting in major Hollywood films, Jennifer Lopez sits in front of a camera looking splendid -- her blonde hair cascading at her sides and her flawless skin glowing in the light.
But this time around the singer, actress, and producer is all about President Barack Obama, and urging Latinos to support him.
"He knows what it is like for families who are struggling to make ends meet and make a better life for their kids," she says in the new ad. "Join me and become part of Latinos for Obama today. Estamos unidos. (We are united.)"
On the other side, Mexican-American comedian Paul Rodriguez is making the rounds stumping for GOP presidential candidate Mitt Romney. 
Rodriguez, a one-time Democrat who voted for Obama in 2008, tells Latinos that Democrats take them for granted. 
His new radio advertisement in Spanish that tells Latinos that the Nov. 6 election comes down to "the type of future we want to leave to our children."
Latino celebrities are playing a more high-profile role in the presidential election than ever before.The campaigns welcome the star power for reaching out to Latino voters, who experts say may well determine who wins the presidential election.
I feel at times Hollywood celebrities tend to jump on the bandwagon.
A record 23.5 million Latinos are eligible to vote; 12 million are expected to cast ballots. The Obama and Romney campaigns have been practically tripping over each other to get this voting bloc's attention.
Actress Eva Longoria is the national co-chair of President Obama's campaign.
Crooner Marc Anthony, JLO's ex-husband, sang the national anthem at the Democratic National Convention on its most important day – when Obama accepted his party's nomination.Talk show hostess Christina Saralegui was a primetime speaker at the convention.
On the Republican side, which traditionally has less celebrities on the campaign trail, Mitt Romney's campaign enlisted comic Rodriguez to reach out to Latinos and stress his disillusionment with the president and Democrats.
"The importance of celebrities is increasing in our elections as the blurring of entertainment and politics grows and known faces of all kinds are given more attention by voters than those less well known," said Elayne Rapping, a pop-culture expert, author and former professor at the University at Buffalo in New York.
Latino celebrities are also using social media to push their messages about Obama or Romney. That, say some experts, could motivate younger Latinos to go to the polls.
"As voters get younger, as older generations die, the importance of pop culture also grows since young people are avid consumers of all kinds of media in way older folks are not," she told Fox News Latino.
Latino stars also played a role in the 2008, though their involvement was not as high-profile as it is in this election.
In 2008, Daddy Yankee campaigned for U.S. Sen. John McCain, R-Arizona, who was running against then-Sen. Barack Obama. Carlos Santana, as passionate about progressive causes as well as his music, pushed for Obama. And who can forget Obama's most high-profile celebrity supporter in 2008 – Oprah Winfrey?
But do the glitter and glamour that stars lend to political campaigns parlay into votes? Can celebrities influence the way voters cast their votes? Do they influence turnout any more than news media organization endorsements, themselves of debatable influence?
Views are mixed.
Ed Rollins, who has been a Republican campaign advisor and consultant for presidents, such as Ronald Reagan and George H. W. Bush, says celebrities do not really sway the voters' choices.
"I have never found any kind of endorsement to make a big difference," Rollins told Fox News Latino.
"They raise a crowd of people," he added. "You get attention and media coverage and the whole game in addition to the advertisement."
"If you have Eva (Longoria) as the national co-chair and she tweets 'I'm going to be in Virginia Beach, come see me,' a lot of people might show up to see her," he continued. "[But] people are not going to shift their votes."
Christina Anastasiou, a media consultant of Mexican descent who voted for Obama in 2008, agrees with Rollins and says that she is voting for Romney based on "numbers and facts" and not on which celebrity chooses to endorse the Massachusetts governor.
"It's nice to see celebrities supporting both sides -- but honestly, it's never influenced my decision on who I should vote for," she said.
"The last election hit me on an emotional level because I felt like Obama's [public relations] campaign knew how to reach out to Latinos," she said. "I voted for Obama and now I'll be voting for Romney. I support his stance on our housing market, businesses, and social policies."
But Lawrence Pitilli, a pop culture expert and associate professor of speech at St. John's University in New York City, argues that celebrities do wield influence on voting.
"Consumers of all ages, particularly younger consumers, are very influenced by the concept of branding (as in buying brand products)," Pitilli said. "When a celebrity endorses a person running for office, it is, in a sense, a form of branding."
He says there is a bandwagon effect, where some voters will follow the lead of a celebrity they admire.
"The brand name is the celeb's name attached to the ticket. Thus, the consumer being the voter here will 'purchase' that product."
Officials of the presidential campaigns maintain that celebrities do make a difference.
Gabriela Domenzain, who is an Obama campaign spokeswoman focused on Latino voter outreach, argues that celebrities, particularly of Hispanic descent, see "what's at stake for the Latino community."
"The president will win the largest number of Latino voters of any U.S. presidential candidate ever because celebrities and non-celebrities alike recognize that the president is moving the Latino community forward," Domenzain said.
"Mitt Romney is on the wrong side of Latino voter priorities and [he is] the most extreme presidential nominee on immigration in modern history."
Anastasiou, who spends her time dealing with celebrities while flying back and forth from New York City to Los Angeles, says voters are not the only ones who get wooed into following the crowd.
She thinks celebrities, like the rest of America, should take the time to "study policies and vote according to their future," versus doing what is hip in Hollywood, a place that is known to be very liberal.
"I feel at times Hollywood celebrities tend to jump on the bandwagon," Anastasiou said. "I don't think it was fair for people to criticize [actress] Stacy Dash for supporting Romney. Last election, it was all about us having a black president and everyone forgot what our president promised."
It was a view echoed by Paul Rodriguez a few weeks ago, when he lashed out at fellow Latino celebrities he said were misguiding Latino voters about Obama. Rodriguez's message to Latinos is that Obama promised the world to get elected in 2008 – especially vowing to reform immigration in his first year as president – only to end up deporting more immigrants than any other president.
Rodriguez characterized Longoria and actress Rosie Perez, who has been active in promoting  Obama and urging Latinos to vote, as products of a Hollywood culture where embracing Democrats and liberals is fashionable and expected.
He said some of the criticism by Latino celebrities of Romney as privileged and out-of-touch is ironic.
"Rosie Perez is not poor," he said. "They're a lot richer than I am."

"They don't know the issues, they don't know anything about foreign policy," Rodriguez told Fox News Latino. "I've been to Afghanistan, I've served my country. I'm not some someone who's lying around my Hollywood pool and thinking about how I can get some publicity."
Trevor Neilson, Longoria's political advisor, had little to say about Rodriguez's comments.
"Eva loves Paul Rodriguez very much. She has worked with him, and respects his political views and opinions," he said. "Paul is obviously well educated and respected, and Eva supports anyone who is involved in their civic duty."
Campaigns that land a celebrity interested in working with them often find that it can be a mixed blessing.
Rollins found that some celebrities were extremely high-maintenance, usurping considerable time and energy on the part of the campaign staff.
Many, he said, were simply "a nightmare," and very inflexible.
"My Democrat friends tell me there is a lot of hand holding," Rollins said. " I'm not sure if there is value worth in it."
"We have had some great ones. Reagan had a lot of friends in Hollywood like Frank Sinatra and Jimmy Stewart."
And sometimes, he noted, celebrities can attract too much attention to their campaign, and not necessarily for good reasons. Remember Clint Eastwood's conversation with the empty chair on the stage of the Republican National Convention?
And then there was the infamous retweet by Eva Longoria.
The actress  retweeted a tweet that read: "I have no idea why any woman/minority can vote for Romney. You have to be stupid to vote for such a racist/misogynistic tw*t."
She later deleted the retweet and apologized.
"What ends up happening is that they become the story, instead of the candidate," Rollins said.
"I would like to spend my energy getting the Latino vote than [getting] entertainers," he said.
Anastasiou says that although celebrities do not affect for whom she votes, it is nice to see them, particularly Latinos in Hollywood, get involved one way or another.
"I like celebrities because in this case, they're using their pubic power to let their fans know who they're voting for," said Anastasiou.
And the Mitt Romney campaign sides with Anastasiou.
"Anytime a surrogate - whether a celebrity or a small business owner in Colorado - helps spread and amplify Governor Romney's message, we consider it something positive," Sharon J. Castillo, who is a representative from the Romney campaign, told Fox News Latino.
"Certainly, when a celebrity endorses a candidate, it grabs headlines and it perhaps reaches a wider audience."
https://www.foxnews.com/entertainment/latino-celebrities-have-higher-profile-than-ever-in-2012-election