Katy Perry: Strict Christian Upbringing Kept Me From Having a Childhood
By ,
Published April 08, 2016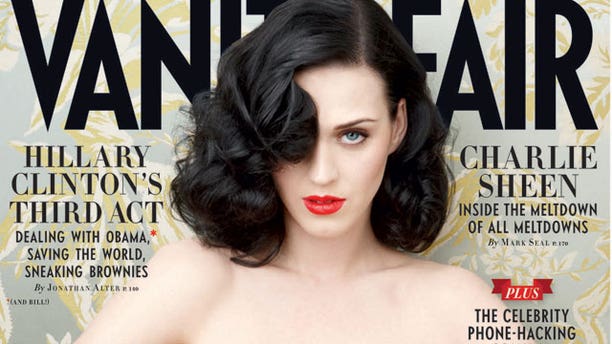 Singer Katy Perry says she left her strict religious upbringing behind her after evangelical-minister parents left her without "a childhood."
The sexy pop singer is on the June cover of Vanity Fair magazine, where she reveals the differences between hers and her parents way of thinking .
"I didn't have a childhood," she tells the magazine, adding that she was not allowed to say things like "deviled eggs" or "Dirt Devil," to listen to secular music or read any other books but the Bible.
"Growing up, seeing Planned Parenthood, it was considered like the abortion clinic. I was always scared I was going to get bombed when I was there … I didn't know it was more than that, that it was for women and their needs. I didn't have insurance, so I went there and I learned about birth control."
Earlier this month, Perry's mother revealed that she was shopping a book about her daughter's career choices' impact on her ministry, saying she was proud of Katy, but disagreed "with a lot of choices she makes in her career."
"I think sometimes when children grow up, their parents grow up," Katy Perry tells Vanity Fair. "Mine grew up with me. We coexist. I don't try to change them anymore, and I don't think they try to change me. We agree to disagree. They're excited about [my success].  They're happy that things are going well for their three children and that they're not on drugs. Or in prison."
Perry credits her husband, actor Russell Brand, with opening her mind even more.
"I come from a very non-accepting family, but I'm very accepting," Perry says of her current religious beliefs. "Russell is into Hinduism, and I'm not [really] involved in it. He meditates in the morning and the evening; I'm starting to do it more because it really centers me. [But] I just let him be him, and lets me be me."
"I've always been the kid who's asked 'Why?' In my faith, you're just supposed to have faith. But I was always like … why?" she says. "At this point, I'm just kind of a drifter. I'm open to possibility…. My sponge is so big and wide and I'm soaking everything up and my mind has been radically expanded. Just being around different cultures and people and their opinions and perspectives. Just looking into the sky."
The June issue of Vanity Fair hits newsstands everywhere May 10.
MORE FROM VANITY FAIR:
Read more from Katy Perry's Vanity Fair interview
Photos: The 2011 Vanity Fair Oscar Party
Slideshow: Vanity Fair's Portraits of Royalty
Photos: All About Kate Middleton's Family

The 2011 Hollywood Portfolio
https://www.foxnews.com/entertainment/katy-perry-strict-christian-upbringing-kept-me-from-having-a-childhood