Is Miley Cyrus the New 'Britsay Spearshan'?
By Hollie McKay, ,
Published April 11, 2016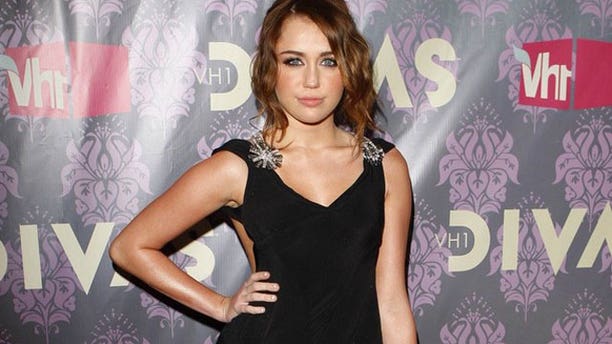 Over the last couple of years, "Hannah Montana" sensation Miley Cyrus has been slowly shedding her tween-idol image in preparation to enter the very adult world of show business. Recent racy acts have many questioning if she's morphing into a hybrid of Lindsay Lohan and Britney Spears, both of whom also went from super sweet Disney child starlets to severely troubled Tinseltowners.
First, there were the scandalous snaps of the then-15-year-old in her underwear that were leaked on the web. Then the "embarrassing" racy pictures of Cyrus in a sheet, taken by famed photographer Annie Leibovitz, were published in the June 2008 issue of "Vanity Fair." The 15-year-old Disney darling further stirred the pot when she started dating 20-year-old underwear model Jason Gaston (she now dates Australian actor Liam Hemsworth, three years her senior).
Then, at last year's Teen Choice Awards Miley caused another ruckus pole dancing -- clad in hot pants, a cropped top and boots. Recently, Cyrus released a sexed-up music video for her new single "Can't Be Tamed." And just this week video from a party for Miley's latest film "The Last Song" hit the Internet. The footage shows the 17-year-old giving her 44-year-old openly gay friend/producer Adam Shankman a lap dance.
SLIDESHOW: The Lovely and Talented Miley Cyrus
So, considering her path down the same scandal-ridden road as her predecessors, is Cyrus the new "Britsay"?
"She's trying to cross-over to the 18-30 target but instead of attempting to accomplish this via the raw talent approach, she resorts to whatever it is she's doing," a former high-profile record executive told Pop Tarts. "Britney was novel and not pornographic until years later. Lady Gaga has gotten away with her craziness because she cranks out hit after hit and she writes them.  I place the blame on her parents, management and record label."
Miley's official new album cover for "Can't Be Tamed" also bears a striking similarity to the cover of "Britney Spears Greatest Hits: My Prerogative." (But hey, at least Brit was 22 as opposed to 17 at the time). Against a grey backdrop, Spears poses with a steely, sexy facial expression and exposes her taut midriff and legs in a little black bra-top, open jacket and short shorts, with her hair tousled dramatically around her face.
And Cyrus's new cover?  Well, she's posing with a straight-faced, sexy expression against a dark grey backdrop while showing off her toned tummy in a little black bra-like top and open jacket with her hair strewn across the frame of her face…
Another trademark "bad girl" move Lohan and Spears also favored was getting inked. Not to be outdone, late last year Cyrus caused jaws to drop when she got the words "Just Breathe" inked just below her left breast. However, it was reportedly done as a tribute to a young friend who passed away from cystic fibrosis.
And like Lohan and Spears, Cyrus's parents (country singer Billy-Ray Cyrus and producer mom Tish), have also come under attack in the press for enabling their young daughter to do such eyebrow-raising things like date older men and dance suggestively. Cyrus even told TMZ that he was okay with her leaked lap dance video as "it's what people her age do."
At the premiere of Cyrus' romantic drama "The Last Song" in March this year, her folks raved to Pop Tarts about what a good, kind-hearted girl Cyrus truly is and how proud they are watching her grow up.
But even though Cyrus (at least contractually) has had to stay pretty wholesome and out of trouble for her Disney bosses before leaving in January, the starlet always maintained that she shouldn't be looked upon as anybody's idol and that her "mistakes" are what make her relatable to young girls.
"If you look at me as a role model I agree with it, but if you look at me as an idol, I don't. An idol for me is someone you want to replicate, you want to be them and I don't wish that on anyone to lose what they have personally," Cyrus told us last year. "What I do in my personal life isn't necessarily meant to be reported. I'm going to make mistakes and I wouldn't trade that for anything because I always say the minute you stop making mistakes is the minute you stop learning."
But in her quest to discard that innocent, tween-friendly image in favor of being taken seriously as an adult in the entertainment industry, it seems Cyrus is suffering some backlash from her Disney fans, those that are responsible for making her a star.
In response to her new racy music video, several FOX411 readers have expressed their distaste and even have threatened to boycott "Hannah Montana."
"This is why my daughters are not allowed to watch 'Hannah Montana,' and all the more reason we will not be seeing 'The Last Song,'" one reader wrote.
Reps for Disney and Cyrus did not respond for comment.
And with Cyrus'18th Birthday less than six months away, the star (who reportedly purchased a $3.4 million mansion close to her parents' pad last month) will also be able to exercise some more financial independence and access a lot more of her hard-earned Disney dollars.
Forbes Magazine listed Cyrus as the second "Most Valuable Young Star" of 2009, and an industry executive estimated in the New York Post that her franchise is worth a billion dollars.
But given all her successes and all her so-called scandals, perhaps the joke really is on us and she's just a consummate PR queen who knows how to stay in the headlines –  after all, the pole dancing, provocative new music video and older boyfriends aren't exactly "mistakes."
"Of course it's all part of a well-thought-out strategic marketing plan," added our music industry insider. "The other route wouldn't have gotten this much attention so quickly."
And according to a source who has worked closely with the starlet, we won't be seeing her making out with girls at the MTV Awards, shaving her head, romping into rehab and/or partying all night, every night anytime soon.
"Miley is very family-orientated and she's actually a very good girl who works hard and has no desire to do anything rebellious," an insider told Tarts, while another source close to the family agreed that her parents really don't have any cause for concern.
"It's almost like we are hoping our teen stars will turn into train wrecks. It's the classic Madonnawhore syndrome. We expect all teen stars to either be perfect angels or they must be little devils who are just one step away from disaster," said Jenn Hoffman, celebrity and pop culture expert. "Maybe Miley is just being a typical teenager who is trying new things out and making some mistakes. She seems to be on the right track for a typical teen."
https://www.foxnews.com/entertainment/is-miley-cyrus-the-new-britsay-spearshan