Hunter Hayes raises awareness for childhood hunger and breaks world record
By ,
Published April 05, 2016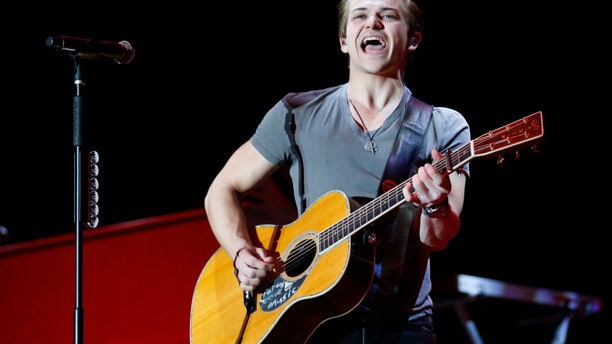 Hunter Hayes has set a new Guinness Book World Record by performing the most concerts in different cities within a 24-hour period, besting the record previously held by the band Flaming Lips.

Hayes performed 10 shows in a day for a good cause, setting out to raise awareness for the issue of childhood hunger. The 22-year-old teamed up with ConAgra and their Child Hunger Ends Here campaign calling their endeavor the "24 Hour Road Race to End Childhood Hunger."

The day started on May 9 with a performance on "Good Morning America" in New York City. That was followed by Boston and Worchester, Mass., Providence, New London, New Haven and Stamford, Conn., South Orange and Asbury Park, N.J., before finally ending in Philadelphia.
"I cannot believe how much fun this whole day has been and that it's only been a day! 10 shows in 24 hours with the best fans in the world and a great cause with Child Hunger Ends Here," he said in a statement, according to The Boot. "I'm so proud to get to work with them and all the sponsors. Thank you to all the fans for not only making history with us but also making this whole thing absolutely awesome!"
During his performances, Hayes made sure to mention the cause that he was out to support.
"We're here for another two-and-a-half hours normally," he told the crowd at one show, according to Radio.com. "We appreciate you guys making this all happen because we're spreading awareness and helping our friends at Child Hunger Ends Here today. What you guys have already done to make that happen is beautiful."
It's a cause that Hayes has been involved with for some time. He has even worked on a song called "Here's Hope" about the issue. Doing research to write the song was an eye-opening experience for the country performer, he said.
"It is staggering what you learn about the hunger issue – right next door in our own backyards," he told Billboard magazine in March. "The statistics are absolutely unbelievable. With the song, we wanted to talk about the positive side – what we could do to help. The little things we can do can make a big difference. It's something that we can be a part of to make this story a better one."
https://www.foxnews.com/entertainment/hunter-hayes-raises-awareness-for-childhood-hunger-and-breaks-world-record