Five of Dolly Parton's Funniest Quotes About Her Own Looks
By , Michael Bartiromo
Published February 21, 2017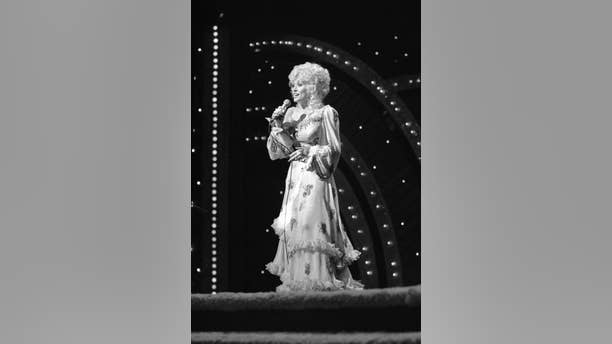 Dolly Parton isn't only a tremendous singer — she's also a tremendous wit.
As she's proved countless times throughout the course of her career, the 70-year-old songstress has one of the silliest senses of humor in show business. And not only is she funny, but she's often delivers her most self-depricating humor with honesty, modesty, and a innocent smirk that leaves us chuckling and charmed at the same time.
In honor of Dolly's 70th, we're taking a look back at her quickest quips and most brilliant one-liners. Keep reading for five of her funniest, but be sure to hold on to your wigs hats:
"He's a good guy. We know each other so well. I know every line in his face, and he knows every hair in my wig."
— during a 2014 interview on the "Today" show in which she was asked about her marriage to husband Carl Thomas Dean.
"If there is a [wardrobe] malfunction, you will not see a nipple ring. It'll be more like a hula hoop."
— during an appearance on "The Ellen DeGeneres Show" after DeGeneres asked if Parton ever worries about wardrobe malfunctions. ("I'd probably take out the first three rows," she also remarked.)
"Now people are always asking me, 'What do you want people to say about you a hundred years from now?' I always say I want them to say, 'Dang, don't she still look good for her age?'"
— during her 2009 commencement speech before the graduating class of the University of Tennessee, Knoxville.
"It's not important to me that a character be glamorous for me to play her. I'll take off the wig to play somebody. But only if I see I'm gonna be good at it. I wouldn't want to be ugly and a bad actress!"
— during a 1980 interview with Roger Ebert, after he asked whether she'd be willing to take a serious acting role after "9 to 5."
"I do wear wigs. Someone once threatened to pull my hair, and I said, 'Lord, don't do that! Some woman in Hong Kong will scream bloody murder.'"
— during a passage about her famous hair in the 1995 memoir "Dolly: My Life and Other Unfinished Business."
https://www.foxnews.com/entertainment/five-of-dolly-partons-funniest-quotes-about-her-own-looks