Bill Maher gets HBO contract extension despite year of controversy
By ,
Published September 19, 2017
Despite a year riddled with controversy, Bill Maher is staying on television through the year 2020.
Premium cable channel HBO announced Wednesday the renewal of the comic's show, "Real Time," for two more seasons, scheduled for 2019 and 2020, the New York Daily News reported.
"We are incredibly proud to continue our longstanding relationship with Bill Maher," Casey Bloys, HBO president of programming, said in a statement. "As part of the HBO family for nearly 30 years, Bill's distinctive point of view, coupled with his passion and commitment to insightful and informative entertainment, has remained unparalleled."
Maher also released a statement Wednesday regarding his contract renewal.
The re-upping of Maher's contract comes just three months after he caught heat for referring to himself using the N-word during an interview with Sen. Ben Sasse, R-Neb.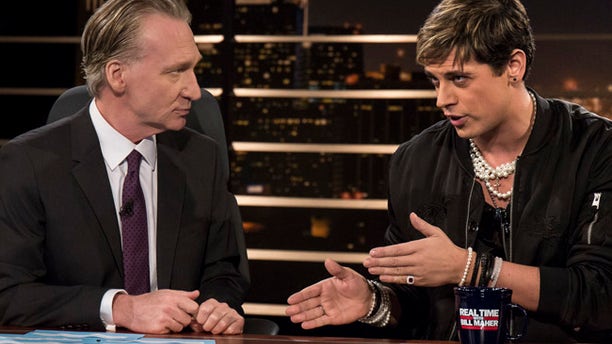 Maher was having a back-and-forth with Sasse when the senator invited the talk-show host to visit his state.
"We'd love to have you work in the fields with us," Sasse joked.
Maher responded, "Work in the fields? Senator, I'm a house [expletive]."
The TV host issued an apology the next day.
"Last night was a particularly long night as I regret the word I used in the banter of a live moment," he said in a statement to the Daily News at the time. "The word was offensive and I regret saying it and am very sorry."
He also came under fire in Feburary when he booked conservative provocateur Milo Yiannopoulos on "Real Time." The booking drew attention at the time when journalist Jeremy Scahill backed out of the show because of what he described as Yiannopoulos' "hateful diatribes."
Maher, a free-speech advocate, told Yiannopoulos on his show that he thought he was "colossally wrong" on most issues, "but if I barred everyone from the show who I thought was colossally wrong, I would be talking to myself."
In May, Maher made comments about Ivanka Trump in which he joked about incest.
The "Real Time" host made the comments during an interview with then-New York magazine writer Gabriel Sherman.
"A lot of us thought, 'Oh, Ivanka is gonna be our saving grace.' When [Trump's] about to f--king nuke Finland or something, she's gonna walk into the bedroom and you know ... 'Daddy, Daddy. Don't do it, Daddy,'" Maher said while making a crude gesture with his hand.
https://www.foxnews.com/entertainment/bill-maher-gets-hbo-contract-extension-despite-year-of-controversy