Pagani Zonda: $1.9M rare supercar damaged in crash
By ,
Published October 24, 2017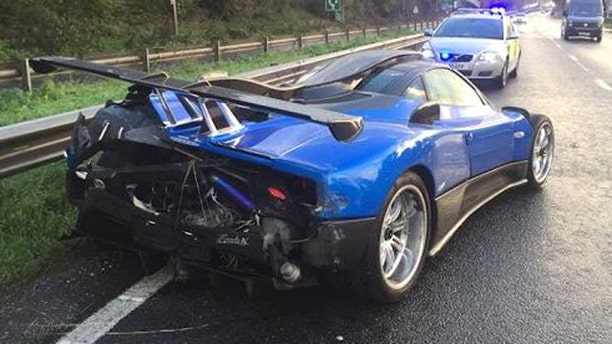 A rare Italian supercar called a Pagani Zonda crashed into a road barrier in the south of England over the weekend, causing "significant damage" to the car.
The "one-off" car was travelling on Saturday in a convoy in west Sussex with other super sports cars. The Zonda, which can reach 218 mph, had its front chassis ripped off, The Evening Standard reported. The driver was not hurt.
Authorities are asking the public to offer any information it may have on the circumstances surrounding the accident.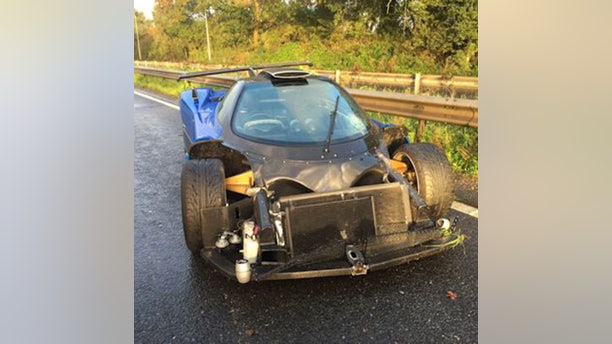 Jalopnik reported that one auto YouTuber said the crash occurred on the A27 motorway while the car was headed to the Goodwood Circuit.
As with most Zondas, this one is a one-off custom that features a huge rear wing and a roof-mounted air intake to feed its 760 hp V12.
The car was alone when emergency responders arrived to find it up against the guardrail facing the wrong way on the wet highway in the town of Tangmere.
Police have not revealed who was behind the wheel at the time of the crash, but it is believed to be owned by Peter Saywell, managing director of aircraft parts manufacturer Saywell International, which was sponsoring a charity track event at Goodwood on the same day.
According to a list of Zondas compiled by CarThrottle.com, this isn't the first time this particular one was wrecked. Saywell had it repaired and modified to its current state several years ago.
https://www.foxnews.com/auto/pagani-zonda-1-9m-rare-supercar-damaged-in-crash