2019 Chevrolet Silverado 1500 first drive: Who's the boss?
Published October 06, 2018
With 20 battery-powered vehicles on the way by 2023, the future of General Motors is electric. But it'll pay for it with pickups.
That's why the 2019 Chevrolet Silverado 1500 is the most important one yet. As the company's best-selling and most profitable vehicle, the Silverado is the one that keeps the lights on. And the new one has some fancy lights.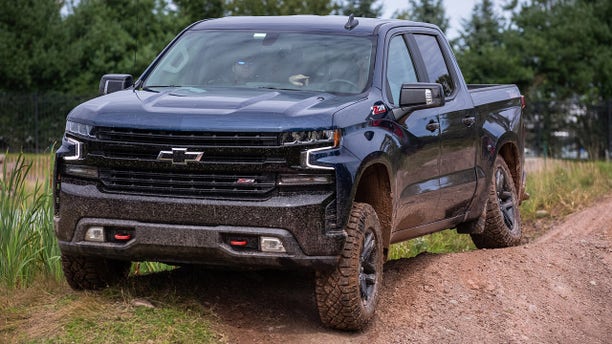 The full-size light duty features front-end styling that looks as much like the latest Chevy Camaro as it does the last-generation Silverado. You'll have to decide for yourself if that's a good thing, but it's a clear indication of just how new this truck is.
It rides on a lighter, stronger frame and wears a body that mixes a steel cab, bed and fenders with an aluminum hood and doors to drop over 400 pounds. Plans for eight trim levels and six engines have been revealed so far.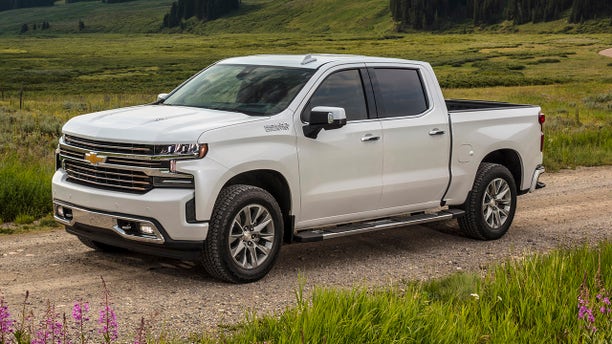 Among the latter are the Silverado's first turbocharged four-cylinder and an inline-6-cylinder turbodiesel, which will both be added later in the model year. First in showrooms will be a 5.3-liter V8 and a 6.2-liter V8 with the ability to deactivate up to 7 cylinders when they're not needed, along with a 4.3-liter V6 and a 5.3-liter V8 that can shut off half of theirs.
The Silverado's maximum tow rating is 12,200 pounds, which trails the top F-150 by half a ton, but there are so many configurations to mix and match on power and price that it's tough to make an apples to apples comparison that applies across the lineup. Suffice it to say, if all you care about are big numbers, there you go.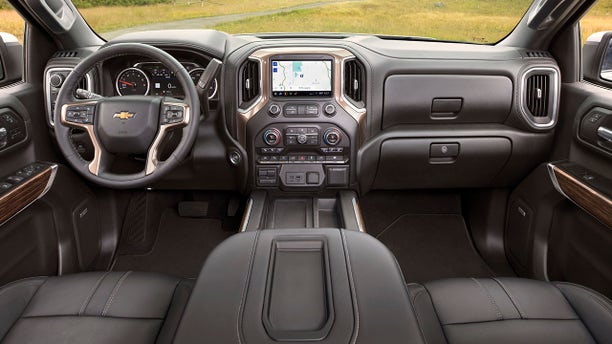 The cabin is roomier than the old one, but not much fancier, even in the luxed-up High Country model. It's easily outdone by the also-new 2019 Ram 1500, but is functionally perfect, with all of the controls laid out right where they should be. That includes the steering wheel which, for the first time in recent memory, isn't off-center from the seat.
There's plenty of storage scattered about, including two cubbies hidden in the rear seatback cushions. That's like the truck equivalent of when Pizza Hut discovered it could put cheese in the crust. Beneath the flip-up seat bottom, you'll find a tray that's suspiciously shaped like something that goes bang.
The tailgate doesn't have to make that sound when you open or close it because the Silverado is available with a fully-powered one. Behind it, you'll find the most spacious bed in the class, thanks to scooped-out sidewalls made possible by high-strength steel.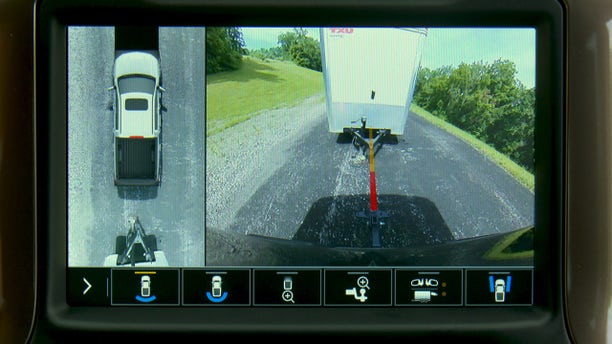 On the tech front, the Silverado can be equipped with a 360-degree parking camera, head-up display,  automatic emergency brakes, lane keeping assist, and a blind spot warning system, but not adaptive cruise control, which you can get in the Ram and Ford. A digital rear-view mirror is able to toggle between a reflective surface and a video feed from the tailgate, virtually moving any passengers or cargo out of your way.
Starting prices range from $29,450 for a regular cab, long bed Work Truck to the $54,495 crew cab, short bed High Country.
I spent a day in a High Country 4x4 with a 6.2-liter V8 and a new brodozer called the Trail Boss powered by the 355 hp 5.3-liter V8. The Trail Boss is a step up from the Silverado's Z71 off-road package that adds a two-inch lift and special Rancho shocks to Z71s skid plates, 18-inch wheels, 37-inch tires, heavy duty air filter, hill-descent control and electronic locking rear differential.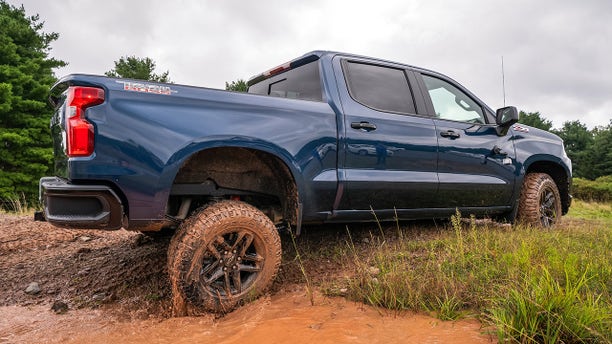 The High Country is quiet and comfortable on the highway. Its leaf-sprung rear suspension can't match the ride quality of a Ram's coil springs or air suspension, but it is an improvement over the outgoing model and on par with an F-150. The updated 6.2-liter V8 is still rated at 420 hp and 460-lb feet of torque and remains simply one of the best engines ever. It pulls and sounds great, and the cylinder deactivation system goes about its business without any indication that it is. A 10-speed automatic transmission that was co-developed with Ford operates perfectly and is proof that we can all get along.
On pavement, the Trail Boss' soft suspension and balloon tires provide an even plusher ride than the High Country, but the deep treads make it noisier. Of course, that's not what they're for.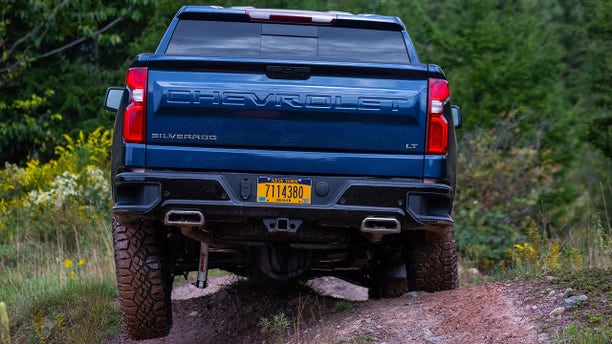 The Trail Boss was designed to live up to its name. It's not meant to be a rock crawler or a high-speed desert runner, but adept on dirt roads. With nearly 11 inches of ground clearance, most ditches and downed logs are no problem. It has a two-speed transfer case, adjustable speed hill descent control system and a hill hold for when you stop on the way up. The rear differential can't be manually locked but does a good job figuring out loose surface inclines on its own.
While I expect many Trail Bosses to be used in this fashion, an equal amount will likely sell on style alone. With its black steel bumper and grille, recovery hooks and split five-spoke wheels, it's a showboat. If it's too much of one for you, Chevy is offering the 2-inch lift from the factory on nearly every Silverado trim, including the high volume Custom and LT, for about $1,800-$2,000.
Despite the myriad options available, the Silverado comes across as surprisingly straightforward, but it's a big improvement over the truck it replaces in every way and should satisfy the Chevy faithful.
Chevy needs it to. Silverado sales have been starting to slip and those electric cars aren't going to pay for themselves. At least not anytime soon.
https://www.foxnews.com/auto/2019-chevrolet-silverado-1500-first-drive-whos-the-boss