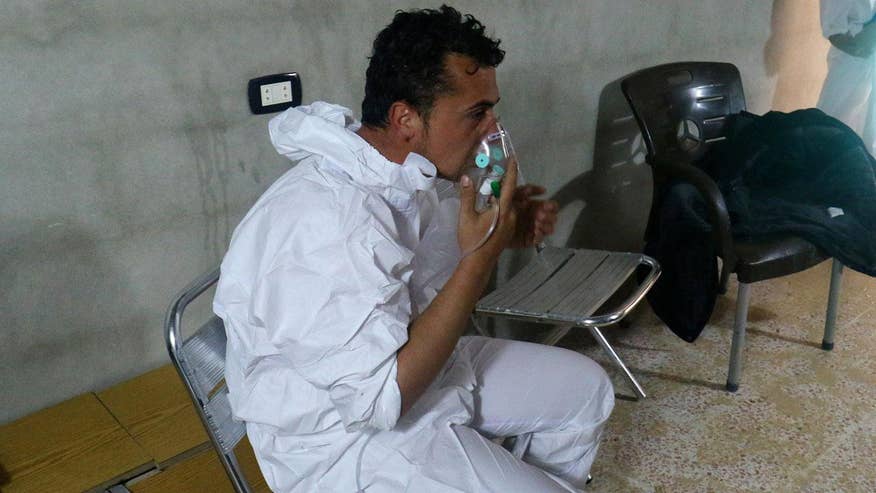 The cloud of deadly gas that enveloped much of a northern Syrian town on Tuesday forced victims into hospitals by the hundreds as medics had no choice but to rush many of the wounded across the border into Turkey.
At least three victims died in hospitals in Turkey's Hatay Province Wednesday, Syrian Dr. Khaled Al Milaji told Fox News. Another doctor said only the victims "with some money" have left the Syrian town.
"Most have remained... and are waiting their fate," Dr. Mohammad Alhamwi said. Turkey has closed off its border to most Syrians, according to journalists there.
DOCTORS, CIVILIANS RECALL CHILDREN SUFFOCATING, DYING ON STREETS
Mohammad Nejdat Youssef told reporters the gas looked like "a winter fog — not quite yellow and not quite white." Some victims choked, foamed at the mouth and passed out, witnesses said.
Youssef told The New York Times from Reyhanli, Turkey, his pregnant 20-year-old wife and 9-year-old nephew were fighting for their lives. Orwa Abu Amash told the newspaper 46 of his relatives had died.
TIMELINE OF CHEMICAL WEAPONS USE IN SYRIA
The attack killed at least 75 people and wounded hundreds more in Khan Sheikhoun, activists said Wednesday, providing updated numbers. The killer agent may have been sarin -- which is 20 times as deadly as cyanide, according to the Idlib Media Center. The poison is colorless and odorless, making it a challenge to detect.
The Syrian Observatory could not confirm it was sarin, however. Analysts have pointed to VX, a nerve agent that the Assad government could produce, or Tabun, which was used to deadly effect during the Iran-Iraq war, as other possibilities, the BBC reported.
The Syrian and Russian governments denied they were behind the attack. A Russian Defense Ministry statement later said the toxic agents were released when a Syrian airstrike hit a rebel arsenal. A string of airstrikes had hit the area around the same time.
Videos from the scene showed volunteer medics using fire hoses to wash the chemicals from victims' bodies. Haunting images of lifeless children piled in heaps reflected the magnitude of the attack, which bore similarities to the 2013 chemical assault that left hundreds dead and was the worst in the country's six-year civil war. A United Nations investigation found that sarin gas was used in that attack.
Most of those killed in Tuesday's attack died before they reached hospitals, Dr. AbdulHai Tennari, a pulmonologist, said. "If they got to the hospital we can treat them. Two children who took a while before they were lifted out of the rubble died."
Tarik Jasarevic, spokesman for the World Health Organization in Geneva, said the agency was gathering more information. The Syrian American Medical Society, which supports hospitals in opposition-held territory, also said it had sent inspectors to Khan Sheikhoun and an investigation was underway.
Fox News' Hollie McKay and The Associated Press contributed to this report.