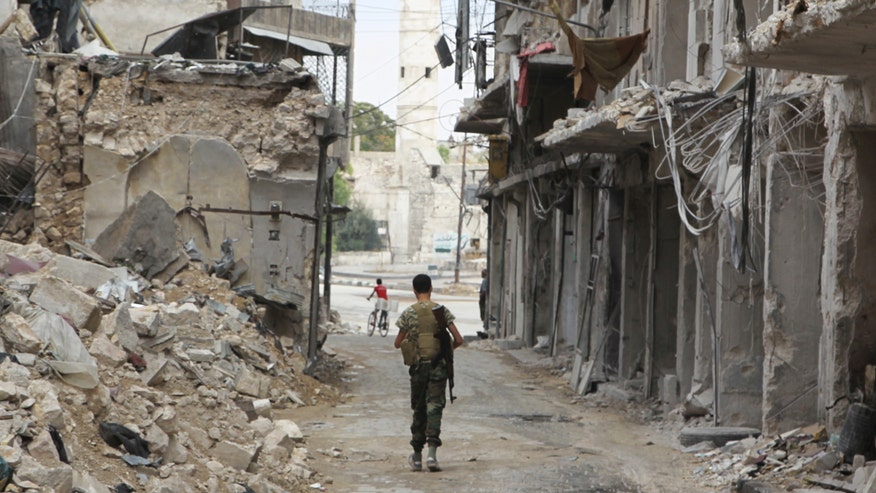 Talks aimed at ending the war in Syria have begun with rebels and the government meeting face-to-face for the first time.
The U.N. envoy to Syria, Staffan de Mistura, is taking part in the talks, which are expected to be followed by more political talks in February in Geneva if successful.
But the meeting in Astana, Kazakhstan, got off to a fractious start when a Syrian government envoy denounced a speech by a rebel representative at the peace talks, calling it "insolent" and "provocative."
ALEPPO'S LANDMARK MOSQUE BEARS SCARS OF SYRIA'S WAR
Syria's U.N. ambassador Bashar Jaafari said rebel leader Mohammad Alloush's speech did not rise to the level of the gathering of diplomats attending the conference.
Jaafari repeatedly referred to the rebel delegation as representatives of "terrorist armed groups."
ISIS BOOSTS OIL AND GAS SALES TO ASSAD, OFFICIALS SAY
He also said that the agenda for the talks is "not ready yet."
Turkey has said both sides have been fighting each other for years and a solution could not be expected in just days.
Deputy prime minister Numan Kurtulmus said: "There are parties that have been at war with each other for six years around the table at Astana. A solution in one or two days should not be expected."
The head of Syria's rebel delegation said the opposition is "ready to go to the ends of the earth" to end the bloodshed in Syria.
Alloush told reporters after an hour of talks that the rebels "are men of peace, and at the same time knights of war."
All parties involved in the war have welcomed the new attempts to thrash out an agreement but the two sides have different ideas as to the aim of the discussions.
Rebel groups have said the meeting will focus on bolstering a frail nationwide ceasefire agreed last month by opposition ally Turkey and regime backer Russia.
But Syrian President Bashar al-Assad has insisted that rebels lay down their arms in exchange for an amnesty deal, and called for a "comprehensive" political solution to a conflict that has killed more than 310,000 and displaced more than half of Syria's population.
The talks, which have been organised by Turkey, Russia and Iran, come a month after the regime recaptured rebel areas of Aleppo, notching up its biggest victory since the start of the year.