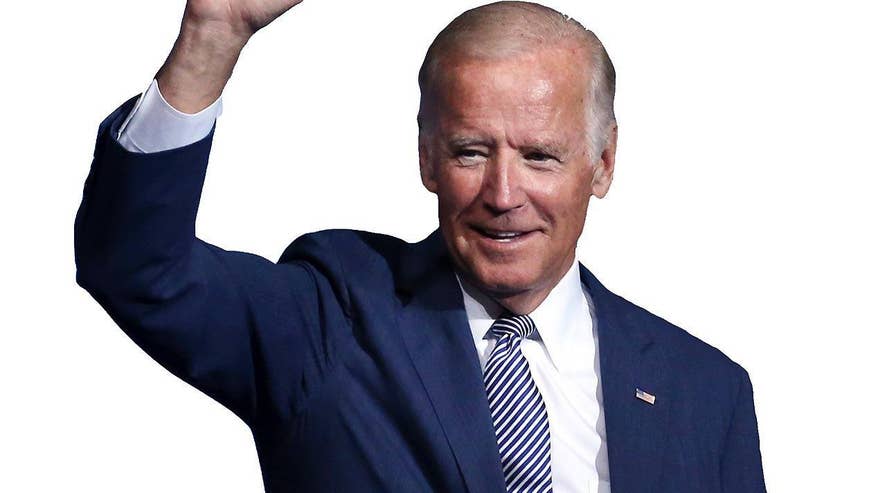 ISTANBUL – Even as Turkey on Wednesday launched a major ground incursion into Syria -- backed by U.S. warplanes and advisers -- to cleanse ISIS from its border, President Recep Tayyip Erdogan sparked a war of words with America's most effective ally against the radical Islamist militants.
Ankara's longtime nemesis, the Kurdish Democratic Union Party (PYD), has been instrumental in battling ISIS in both Syria and Iraq, but the party is seen as a terrorist group blamed for numerous bombings linked to Kurdish rebels inside Turkey. Regional experts say both Turkey and the PYD may share a common enemy in ISIS, but their real enemies are each other.
"This morning at 4 a.m. an operation started in northern Syria against terror groups which constantly threaten our country, like ISIS and the PYD," Erdogan said Wednesday.
The Turkish strongman's warning and refusal to distinguish between the two groups came after Kurdish PYD leader, Saleh Moslem, sent a message of his own as Turkish armor rolled into Syria.
"Turkey will be defeated like Daesh in Syrian quagmire," Moslem tweeted.
Erdogan's bluster came as the U.S. conducted eight airstrikes against ISIS in support of Turkey's move and Vice President Joe Biden arrived. Biden is in Turkey to smooth over relations following a failed coup attempt and Erdogan's claim that a cleric living in the U.S. was behind it.
"Turkey has the United States' unwavering support," Biden said, attempting to mend any tears in the U.S.-Turkey relationsnip.
At the same time, the U.S. and its allies -- including Turkey -- have sought to establish a Kurdish corridor in northern Syria extending east of the Euphrates. But Syrian Democratic Forces, a U.S.-backed armed alliance led by PYD's military wing, YPG, crossed to the west of the river as they chased ISIS and routed the jihadists from the city of Manbij and potentially increasing its footprint along Turkey's border with Syria.
Erdogan made clear his resolve to attack ISIS, which claimed responsibility for a suicide bombing Saturday at a wedding in the Turkish city of Gaziantep which killed 53, was part of a bigger agenda that includes ethnic Kurds.
"There are those who say Syria would be such and such for Turkey," Erdogan said in direct response to Moslem. "You should first think of what is going to happen to you."
Turkey's Foreign Minister Mevlut Cavusoglu made a "formal" threat to the Kurds, increasing the tone a notch higher.
"This is our official warning to the Kurds," Cavusoglu said. "Kurds must return to the east of Euphrates, or we will do what is necessary."
Turkish officials appropriately named the incursion "Operation Euphrates Shield."
As Turkish authorities frequented their appearances on TV and social platforms like Twitter to get across their message to the Kurds, Kurdish military spokesman Redur Xelil appeared unmoved by the threats.
Accusing Ankara of collaborating with Iran and the Syrian government, Xelil slammed Turkey's intervention in Syria as a "blatant act of aggression in Syria's internal affairs." Xelil refused to bow to the warning to retreat east of Euphrates, saying the decision for that was up to the Syrian Democratic Forces.
Another influential Kurdish politician, Aldar Xelil, took a tougher stance against the Turkish intervention, telling Reuters it was a "declaration of war" on the autonomous administration of northern Syria.
While Turkey exchanges threats with the secular Kurdish forces who have proven effective in their fight against ISIS, worries about jihadist involvement in Turkey's operation began to surface.
Turkey's state-run Anadolu News Agency confirmed earlier today that members of the Free Syrian Army, a moderate Islamist group consisting mainly of Syrian Turkmen and Arabs, captured several villages in collaboration with the Turkish armed forces.
Ümit Kıvanç, a Turkish journalist and columnist, delivered a more stark warning in his personal blog today. "All groups attending the operation are Islamists," Kıvanç said. "It is not right to call the entire Syrian opposition 'jihadists,' but if you call Ankara's allies in this operation that, you would not be wrong."
Turkey and the United States have long been backing what they called "moderate rebels" in Syria, including programs to train and equip them to fight Syrian President Bashar Assad's forces and radical Islamists.
However, moderate opposition never proved effective on the battlefield, having quickly lost their CIA-given weapons to radical Islamists in Syria sometimes even without firing a shot.