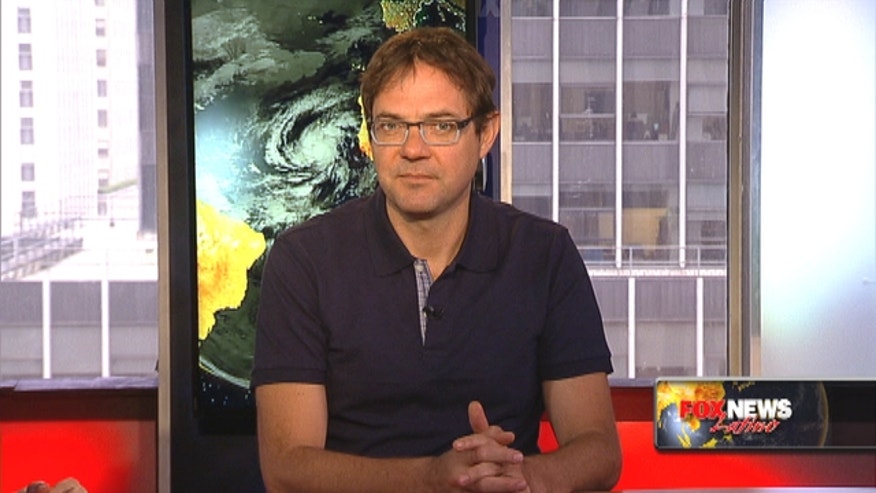 "Change is happening faster and faster than it ever has before," Paul Berry, the CEO and founder of tech company RebelMouse, told Fox News Latino recently, "and now we can actually watch the behavior of users changing."
Berry, 40, has helped usher in some of that change himself at companies like the Huffington Post, where he was the chief technology officer, and now RebelMouse, which helps companies and individuals expand their reach on social media.
"It's happening very quickly," Berry, who was born in Mexico City to an American father and Mexican mom, said. For example, "We're learning to read videos, rather than listen to them."
Maybe people are walking around and don't want to pop earbuds in or they're on a train and can't turn up the volume, whatever the reason but media companies are starting to notice, and now places like BuzzFeed channels Nifty and Tasty are uploading more and more clips that have "text overlaid on them that allow for effortless reading, and they are getting millions of views."
RebelMouse advises media companies like The Dodo, which posts articles and videos about animals, how to expand their social media reach.
"Instead of what most places do, post their content and pray it finds an audience, now content creators have to express the intention of their content," Berry said. "If you have a beautiful video of a wombat, how do you get it in front of those people who really care about wombats and are dying to see that video?"
Well, Step 1 might be to get the fine people at the Sleepy Burrows Wombat Sanctuary in Australia to post your video on their Facebook page so that the nearly 50,000 followers would get to see it.
"That's our value as a tech company," Berry said. "We can give writers and editors a huge advantage in 'winning' social media."
Part of the reason, he said, is that "We have 65 developers in 32 countries, not outsourced farm task zombies. Lots of companies fail because of burnout in their engineers. For us, it's as if we're pulling an all-nighter every night because our developers are excellent at passing the baton to each other."
In fact, the company has its principal office in SoHo in Manhattan, but, "we try never to say 'headquarters,'" Berry said. "Our CTO is in Slovenia, and our best engineer is in the Ukraine."
And business – at least the social media reach of the companies RebelMouse advises, like Time Inc., General Electric, Paper Magazine – is booming.
Berry pointed out, "The Dodo's growth is faster than Huffington Post's was, with far less capital investment."
Nearly all that growth is on mobile phones and social media. BuzzFeed – a company that Berry has worked with in the past – about one-fifth of its reach is on the internet. "Websites are no longer a growth sector," Berry said.
Social media, Facebook, native videos, Snapchat – that's where all the work in building an audience is done today, he said.
"Right now, it's easier to create large audiences than it is to monetize them," Berry said. But, he added, "We're in one of those times when we're going to start to see some very real monetization stories. And remember that BuzzFeed's revenue growth is enormous."
He also likes how democratic some of the changes that are happening can feel.
"Technology used to start with the people who could afford the highest-priced iPhone, but we're in this new phase," he said.
For instance, WhatsApp. "That grew by gaining first working-class people in the Third World, then everyone else. All my family in Mexico is on WhatsApp. If you go to a car mechanic or a tamale vendor in Mexico, they will tell you their WhatsApp user name, not their phone number."
In fact, he said, "Many people in the United Sates probably took up WhatsApp because the people on the Mexican side of their families used it."
Berry's parents moved from Mexico City to Palo Alto so his father, previously a journalist, could get an MBA at Stanford. His father later started a tech company called Palo Alto Software.
He grew up tinkering with his father's computers. His first job was designing and running the website for his dad's company, so coding and exploring new technology is second-nature to him.
Like many others in that world, however, Berry can be philosophical about what all the new gizmos are doing to us.
"We're in this hyper-expansive moment in our civilization," he told FNL. "We haven't had time to figure out what it can do to us."
He also mentioned sheepishly, almost as if he were admitting that he didn't recycle, "I don't want my three kids on Facebook."
At least not yet.
Rebekah Sager is a writer and editor for FoxNews.com. She can be reached at rebekah.sager@foxnews.com. Follow her on Twitter @rebekah_sager.
Bill Vourvoulias (@bvourvoulias) is an editor at Fox News Latino.
Like us on Facebook