Los Angeles – It was three weeks before graduation for the class of 2009. Alejandro Velez was ready to pack his bags at UC Berkeley and head off to New York City. He had already worked as a summer analyst on Wall Street and had secured a full-time job offer as an investment banker. Then, everything changed.
"I was in a business ethics class. The professor was giving a 50-minute lecture called '19 Ways in Which Industries Can Become More Sustainable.' One of the slides he was showing had a picture of mushrooms, a Starbucks logo and trees being cut down. All he said was, 'I read in a book that you could potentially grow mushrooms on coffee waste, but nobody has ever done it.' Then he moved on to the next slide."
I think the curiosity of being an immigrant, of someone who was not born here, is what drove me. You have to be curious or you won't figure things out.

- Alejandro Velez
It was at that moment the light switch went off in Velez's head.
"I think it was the Latino part of me that was immediately intrigued," recalled Velez. "I'm from Colombia; I've been drinking coffee since I was a little kid; I've seen coffee plantations. So I went to [the professor] after the lecture to ask him questions and he said, 'You know, there's only one other kid who asked about this. Let me put you two in touch.' That person ended up being Nikhil Arora, my company's co-founder."
That's how the Back to the Roots company came to being.
What started out as two college kids discovering how to grow mushrooms from used coffee grounds has since grown into a multimillion dollar business aimed at promoting urban farming, where all you need is a window sill. Their mission, they say, is to "undo food" and reconnect families to it through ready-to-grow and ready-to-eat products.
Back to Roots products are currently offered in over 14,000 stores worldwide, including Whole Foods, Target, Costco, Kroger, Nordstrom, Petco and Cost Plus World Market.
Their most popular are the Mushroom Farm, which grows organic oyster mushrooms in 10 days; the Garden in a Can Set, with four organic herbs growing out of a can; and Water Garden, a self-cleaning fish tank that grows food, so the fish feed the plants and the plants clean the water.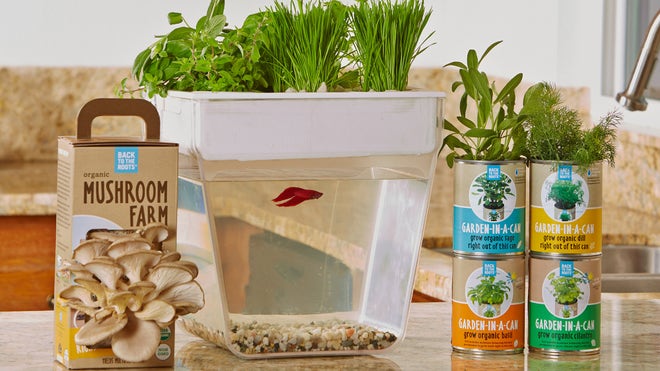 "We love the idea of creating something that's fun enough for kids but is also sophisticated enough for adults," said Velez. "And in a lot of ways food is missing that. We say, let's make it fun and funky. We want to become a gateway for kids to get inspired and become passionate about food and science. With our mushroom farm, all you have to do is just open the box, mist it with water and about 10 days later you have organic oyster mushrooms ready to eat. It's a similar idea with the Garden-in-a-Can and Garden-in-a-Jar. The big question for us is, how do we bring the same passion and integrity to packaged food so you know exactly where it comes from and who it comes from?"
To that end, Back to the Roots recently launched Organic Stoneground Flakes and Organic Stoneground Crisps, the world's first three-ingredient breakfast cereals packaged in the world's first 100 percent recyclable box.
"We want to bring back sustainability by reducing waste and we want to bring back real ingredients. Part of that is identifying the farmers right on the cereal box so that there's a very clear connection. That's the essence of our name. It's this idea that if our grandparents don't call it food, then it shouldn't be on our plate."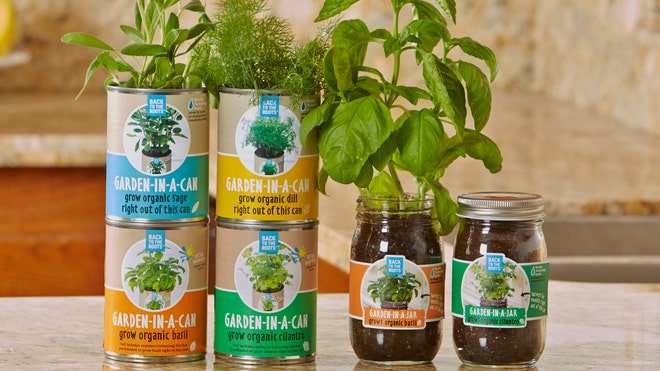 It's been nearly seven years since that fateful lecture at UC Berkeley. But for Velez, his roots go back much further.
"I came to this country when I was 11 years old with my mom and my brother. She had $5,000 in her pocket when we arrived in Paw Paw, Michigan," he recalled. "That has everything to do with what I'm doing now. I think the curiosity of being an immigrant, of someone who was not born here, is what drove me. You have to be curious or you won't figure things out."
He added: "Nikhil's family came from India, so he has the immigrant experience, too. Being a Latino immigrant made me realize that the United States is where you really can make things happen. We're proof that it's possible to make money, create a great product, provide employment and serve the community. That's capitalism at its best."