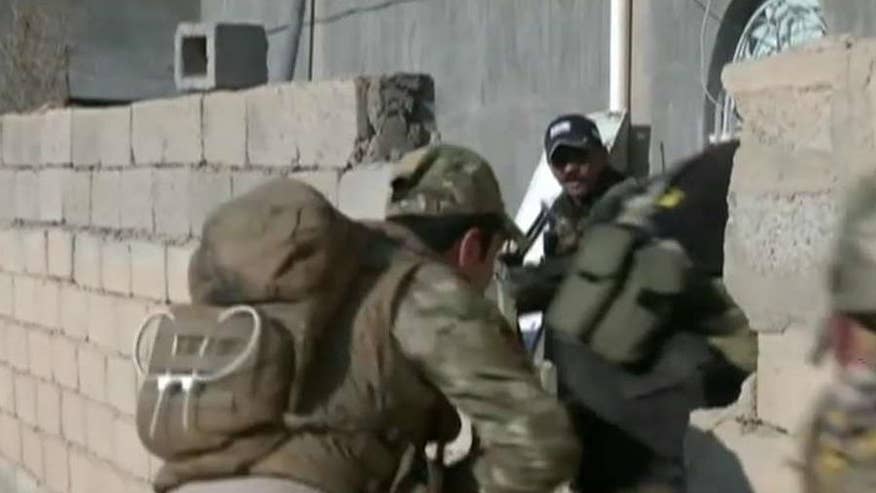 Iraqi troops made a new push to retake the center of Ramadi, a strategic city close to the capital, Baghdad, that has been under Islamic State control since May.
Iraqi army units and American-trained counterterrorism forces, backed by U.S.-led airstrikes, attempted to advance from three directions Tuesday on a former government compound in the city center, said Sabah Karhout, a top provincial official.
The military launched a counteroffensive to retake Ramadi a month ago, and has since recaptured a western district and the provincial military command headquarters near the city center. The presence of hundreds of civilians in the city, however, has caused weeks of delay in the start of the assault to retake control of the entire city, according to Iraqi military officers.
The loss of Ramadi, the capital of Anbar province some 60 miles west of Baghdad, was a stinging blow for the central government. But in recent months, Islamic State has suffered a string of defeats elsewhere at hands of Iraqi security forces and allied paramilitary groups and those forces hope to keep up that momentum by recapturing Ramadi.
"Victory in Ramadi means a victory for Iraqi security forces," said Brig. Gen. Yehya Rasool, an Iraqi military spokesman. "It means that our forces have the initiative now, and our forces will now lead the fight everywhere."
Tuesday's ground offensive began at 6:30 a.m. local time, when military engineers installed a temporary bridge over the Euphrates River, according to Sabah al-Numani, head of the government's counterterrorism forces. Iraqi troops crossed the bridge and entered the al-Huz neighborhood, south of the city center, where they surprised Islamic State fighters.
"The enemy was in complete shock and confusion, which enabled our forces to defeat the enemy there," Mr. Numani said.
By early afternoon, Iraqi troops had pushed into the neighborhood of al-Baker, close to the government compound they are trying to retake, said Mr. Numani.
U.S. intelligence estimates indicate that only about 250-350 Islamic State fighters are left in Ramadi, said Col. Steve Warren, a spokesman for the U.S.-led coalition battling Islamic State. Combined Iraqi government forces, including federal police and Sunni tribal fighters who weren't actively involved in Tuesday's initial push, number as many as 10,000 men, Col. Warren said.
Click for more from The Wall Street Journal.