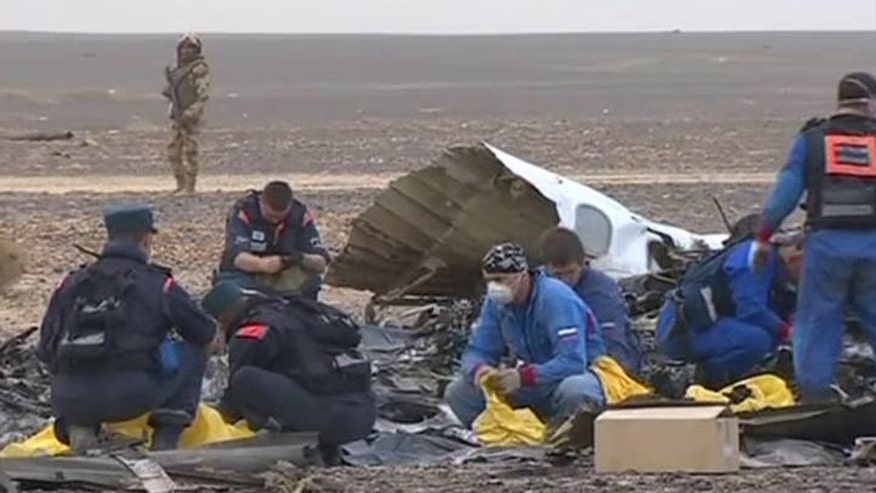 Russian President Vladimir Putin suspended all Russian flights to Egypt Friday until security is improved there, nearly one week after the deadly crash of a passenger jet in the Sinai Peninsula, leaving thousands of tourists stranded in the resort city of Sharm el-Sheikh.
Putin's chief of intelligence had recommended the halt after several days of statements by British and American officials that it was possible a bomb on board had brought down the plane.
The suspension, covering all of Egypt, is even more sweeping than the one previously imposed by Britain, which had halted flights to Sharm el-Sheikh only.
"I think it will be reasonable to suspend all Russian flights to Egypt until we determine the real reasons of what happened," intelligence chief Alexander Bortnikov Bortnikov said in televised comments. "It concerns tourist flights most of all."
There are currently 45,000 Russian tourists on vacation in Egypt, Russian news agency TASS reported, according to the Telegraph. In Sharm el-Sheikh, around 20,000 British tourists are stranded, Sky News reports.
A Thomas Cook "rescue flight" headed to the resort city on Friday to pick up British tourists made a sudden turn over Albania and appeared to be heading back to the United Kingdom.
The change in course came as many of the flights out of Sharm el-Sheikh for British tourists were suspended by Egyptian authorities. There was no immediate explanation from the suspension from Egyptian authorities.
Meanwhile, wreckage from the plane arrived in Moscow for crews to test for possible traces of explosives, Russia's emergency situations minister Vladimir Puchkov said. "These are necessary samples from all parts where traces of explosives could be. All of these samples have been delivered to Moscow, and we are studying them," Puchkov said.
Russian carrier Metrojet's Airbus A321-200 crashed 23 minutes after takeoff from the Sinai resort of Sharm el-Sheikh, killing all 224 people on board.
British investigators examining the deadly crash believe that the plane was brought down by a bomb placed in the cargo hold, according to multiple British media reports.
The BBC reported that while officials in London have not completely ruled out the possibility that Metrojet 9268 crashed due to a technical fault, they now view such a scenario as highly unlikely.
Sky News reported that British intelligence operatives uncovered chatter Wednesday during a review of intercepted conversations following the Oct. 31 disaster that suggested a plot to bomb a passenger plane in the region. The Daily Telegraph reported that the conversations involved Islamist militants known to U.S. and British intelligence, while the Times of London reported that the tone and content of the intercepted conversations between militants in Syria and Sinai convinced officials that the bomb had been carried on board by a passenger or member of the airport's ground staff.
The Russian government reacted angrily to initial reports of the British intercepts Thursday. Foreign Ministry spokeswoman Maria Zakharova told reporters that if Britain had information about a bomb on the plane, it was "really shocking" that such information had not been shared with Russia.
British Foreign Secretary Philip Hammond said in response that the U.K. government had not distributed the intercepts widely, saying, "Some intelligence we can share, some we cannot. We have reached a conclusion. What we are sharing with our partners is our conclusion."
Sky News reported that while British intelligence officials are willing to share their conclusions with Moscow, they are not willing to share the raw intelligence itself out of concern it would reveal too much about their capabilities.
The Telegraph also reported that investigators are focusing on the possibility that a baggage handler at the Sharm el-Sheikh airport smuggled the bomb onto the doomed Airbus A321-200.
In a sign of how seriously British authorities were considering the cargo bomb theory, tourists due to return to the U.K. on specially ordered flights Friday were told to only bring carry-on luggage aboard their flights and that their checked bags would travel in cargo planes separately. On Friday, the Dutch airline KLM announced that it was implementing the same policy "based on national and international information and out of precaution."
On Friday, the British budget airline easyJet said that eight of its scheduled ten flights from Sharm el-Sheikh would not be able to operate because Egypt had suspended British flights from flying into the airport. The airline says it is paying for hotels and additional expenses for its stranded customers.
Monarch and British Airways said they still planned to operate flights back from Sinai on Friday.
The two EasyJet planes that managed to take off from Sharm el-Sheikh's airport Friday were carrying 359 vacationers.
Exasperated British tourists who have waited for hours at the airport heckled U.K. Ambassador John Casson after reports of more flight delays and cancellations.
One irate tourist at the Red Sea resort shouted: "When are we going home?"
"We'd seen all these personnel carriers and all these people from the Army there, and a guy approached me, sort of slid up to the side of me, who seemed to have a bullet-proof ballistics vest on, covered up with a jumper. He just said 'would you like to avoid these queues?'"

- Dale Parkyn, a British citizen who paid a guard to skip security at Sharm el-Sheikh's airport
The Daily Telegraph reported that employees of the Sharm el-Sheikh airport are not required to pass through security, unlike their Western counterparts. Though the airport is equipped with metal detectors and X-ray scanners, travelers to the area have previously complained about inattentive security screeners.
Dale Parkyn, a British citizen who had visited the resort city earlier this year, told Sky News that he and his partner were able to skip the long lines at the airport for their return journey after paying a security guard $30.
Parkyn said he was led by the official past the security gates unchecked – despite a big military presence at the airport -- and was able to board the plane.
"We'd seen all these personnel carriers and all these people from the Army there, and a guy approached me, sort of slid up to the side of me, who seemed to have a bullet-proof ballistics vest on, covered up with a jumper. He just said 'would you like to avoid these queues?'" Parkyn said.
"What we did is we discussed it and he then produced a £20 note and said 'have you one of these' and you can avoid the queue."
Parkyn said at no point did his luggage go through a scanner.
"We walked right through the security gates and security procedure, straight through the airport, avoided all the queues, and then he put the case on the conveyor belt and the girl checked us in," he told Sky News.
Philip Baum, editor of Aviation Security International, told The Associated Press that a bomb could be placed on a plane in a variety of ways, including by someone with access or by those on catering teams or maintenance crews.
Lending further credence to the bomb theory is images that appear to show holes in the remains of the plane's fuselage punched from the inside out, the Telegraph reported. Other inward-facing parts of the plane appear to have been punctured with shrapnel.
Egypt and Russia have repeatedly dismissed suggestions by the U.S. and Britain that a terror attack brought down the flight. On Thursday, Cameron held a previously scheduled meeting with Egyptian President Abdel-Fattah el-Sissi that was followed by a news conference. The Egyptian leader said that British officials had sent a security team to evaluate the Sharm el-Sheikh airport 10 months ago and were satisfied with the results.
"They checked the security actions, they were happy with that," he told reporters at 10 Downing Street through an interpreter. However, the Telegraph reported that the British team had urged the Egyptians to carry out more background checks on tarmac baggage handlers and add more scanners. It is unclear if the recommendations were carried out.
Cameron also spoke by phone with Putin to explain that concern for the safety of British citizens had led Cameron's government to go public with its suspicions about a bomb.The Kremlin said Putin told Cameron it was necessary to rely on data yielded by the official crash investigation.
Metrojet suspended all flights of Airbus A321 jets in its fleet after the crash. The company has ruled out a pilot error or a technical fault as a possible cause, drawing criticism from Russian officials for speaking with such certainty too soon.
The Associated Press contributed to this report.