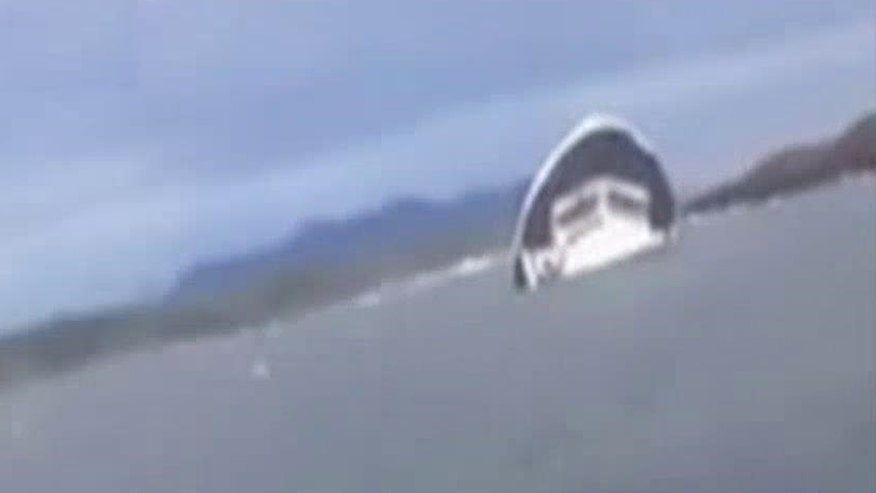 TOFINO, British Columbia – Two of the people who died when a whale watching boat suddenly capsized off Vancouver Island were identified Tuesday as a 17-year-old boy with Down Syndrome and his father.
David Thomas, 50, and his son, Stephen, were among five British nationals killed when the 65-foot Leviathan II capsized Sunday in seemingly calm weather about eight nautical miles off Tofino, a popular destination for whale watchers. An Australian man remains missing.
The Down Syndrome Association UK said in a statement that David was a "huge supporter" of the organization and "one of the driving forces behind the Swindon Down's Syndrome Group, where he was a trustee."
Stephen was described by the association as "a very talented young man and a gifted photographer."
"His love of photography started when he was eight years old," the statement said. "We were all delighted when Stephen's beautiful image Moraine Lake won the national My Perspective photographic competition last year."
The group added: "All of our thoughts and condolences are with the Thomas family at this terrible time."
Microsoft UK said David was an employee.
"Our thoughts and deepest sympathies are with their family, friends and David's colleagues and we will be doing everything we can to support them," the company said.
Meanwhile, investigators are still searching for what caused the ship to sink. One clue could be found in the recollection of one of the 21 survivors, who told a fisherman that the boat was overcome by a sudden wave.
"The lady was saying that a wave just capsized them," said Clarence Smith, a local fisherman who was among the first rescuers on the scene. "That's why there weren't any communications on the radio, no mayday."
"The lady was saying that a wave just capsized them"

- Clarence Smith
Smith said he was reeling his lines for halibut when his friend saw a flare shoot in the sky. They raced to the scene in their small boat, and saw people in life rafts, in the water, and on rocks. They first helped a man who was clinging to the side of the boat, taking eight minutes to get him on board. He was unresponsive, and tangled in a line.
Then they rescued two women who were clinging to each other, and finally got 10 people on the life raft onto their boat. Among those they picked up were a pregnant woman and a woman with a broken leg.
Jamie Bray owns Jamie's Whaling Station, which operated the Leviathan II. Bray said the boat sank in an area it goes to every day. He said he's had minimal contact with the crew and is cooperating with investigators to determine what caused the boat to flip over.
"This vessel has operated for 20 years with an absolutely perfect safety record. This is something just totally out of the blue," Bray said. "We just don't understand and we won't know the answers until the Transportation Safety Board finishes their investigations."
"We're all traumatized," Bray said, his voice shaking.
He said the passengers are not required to wear life jackets on larger ships like the Leviathan II.
The company's director of operations, Corene Inouye, said the crew shot flares from the water which attracted the attention of local aboriginal fishermen who rushed to help rescue 21 people. Valerie Wilson, a spokeswoman for the Vancouver Island Health Authority, said late Monday that four of the survivors remained in hospitals in British Columbia and were all in stable condition.
It wasn't the first fatal accident on the whale watching company's record. In 1998 one of its vessels capsized during an excursion, sending all four people on board into the water. The operator and a passenger died. Bray said that vessel was struck by a rogue wave but said the latest incident involved a much larger boat.
Government investigators arrived Monday afternoon in Tofino, a remote community of about 2,000 people at the very tip of a peninsula some 200 miles northwest of Victoria, the capital of British Columbia. But they hadn't yet spoken to the crew and passengers, said Marc Andre Poisson, Director of Marine Investigations for Canada's Transportation Safety Board.
The Royal Canadian Mounted Police sent an underwater recovery team to search for the missing person, with assistance from the Coast Guard and local search and rescue personnel.