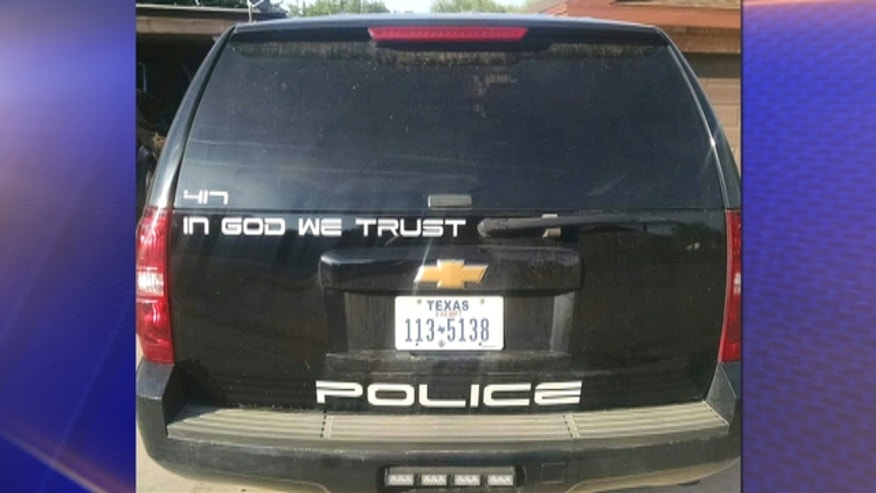 A Texas police chief said that the recent string of violent attacks against police officers led him to paste "In God We Trust" in capital letters on the back of his department's patrol cars, despite protests from a nontheistic group asking him – and other police chiefs around the country – to take the words off the cars.
In response to a letter by Freedom From Religion Foundation, Childress, Texas police Chief Adrian Garcia told the group to "go fly a kite" after they asked him to take down the United States' national motto from the vehicles.
"After carefully reading your letter I must deny your request in the removal of our Nations motto from our patrol units, and ask that you and the Freedom From Religion Foundation go fly a kite," Garcia wrote in a letter.
Speaking with Fox and Friends on Wednesday morning, Garcia added that the motto was meant to be a rallying cry after the death of fellow Texas lawman Darren Goforth last month. Goforth, a Harris County Deputy Sheriff, was shot 15 times and killed during an ambush at a suburban gas station.
The slaying caused police departments in states such as Arkansas, Florida, Kentucky and Virginia to also put the "In God We Trust" slogan on the back of their patrol cars.
"With all the assaults that are happening across America on law enforcement, I just felt that it was time to have somewhat of a rally cry. And what better thing to say it than have our national motto on our patrol units?" Garcia said on Fox and Friends.
In early September, Garcia took to the Childress Police Department Facebook page a day after Goforth was killed in the Houston-area ambush and posted a picture of a patrol unit with a new decal of the motto.
"Please excuse the dirty unit. I had to share this with the public. Notice what I will be putting on all Childress Police patrol units," he said.
"In God We Trust" first appeared on U.S. coins in 1864 and became the official national motto in 1956, being added to paper money the following year. While there have been many challenges to the motto over the years, the Senate reaffirmed its status as the official motto in 2006 and in 2011 the House of Representatives passed another resolution to back the motto.
Free from Religion did not immediately respond to a request for comment From Fox News Latino. But one of the co-presidents of Free From Religion, Annie Laurie Gaylor, told the Los Angeles Times that the motto is a "johnny-come-lately" adage that only gained popularity when the U.S. was trying to distinguish itself from official atheist state of the Soviet Union during the Cold War.
Gaylor added that police are using the motto to try to protect themselves from the widespread criticism law enforcement officers have been under following a rash of police related deaths in places like Ferguson, Mo., Pasco, Wash., Baltimore and New York City.
"I think there is no question that police and sheriff's departments are wrapping themselves in the mantle of piety," Gaylor told the Los Angeles Times. "Police are feeling criticized so they react to this criticism by sticking God on their cars. Monkey see and monkey do all over the country; it is so anti-intellectual imagining that God will protect them."
Like us on Facebook
Follow us on Twitter & Instagram