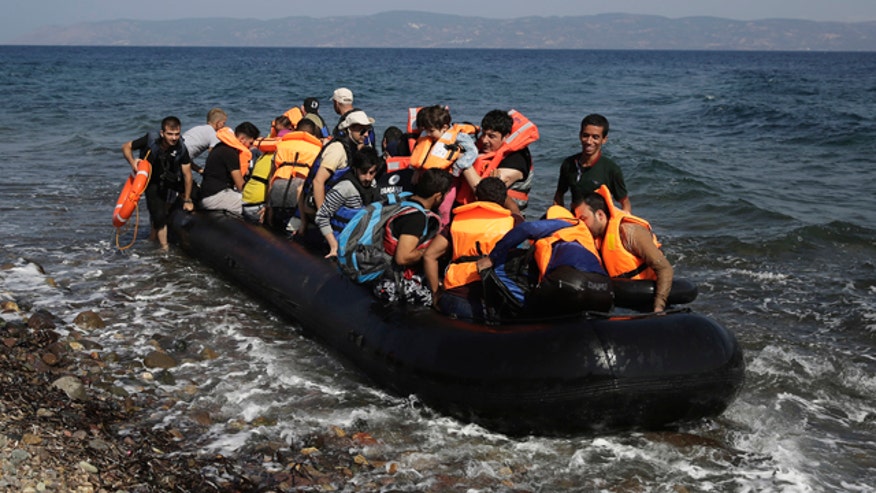 Germany's vice chancellor said his country could take in 500,000 refugees annually for the next several years, one day after Hungary's prime minister called on Berlin to close its doors to thousands from the Middle East, Africa, and Asia who have poured into Eastern Europe in an effort to reach more prosperous nations.
The BBC reported that Sigmar Gabriel also repeated demands that other European countries accept quotas designed to ensure that Germany does not have to take in the lion's share of refugees. Germany, which has the largest economy in Europe, is expecting to take in 800,000 refugees in 2015, more than four times last year's total. An estimated 20,000 refugees entered Germany via Hungary by train, bus, and on foot this past weekend alone.
Hungarian Prime Minister Viktor Orban warned in an interview with Austrian television late Monday that millions of refugees would descend upon the continent if what he called Germany's "open door" policy continued. He also claimed that many who had passed through his country via the so-called "Balkan Corridor" were not in dire straits, but rather were attracted by Germany's generous benefit programs. For that reason, Orban warned, the refugee surge risked placing an intolerable financial burden on members of the 28-nation E.U.
"As long as Europe cannot protect its external borders it makes no sense to discuss the fate of those flowing in," Orban said.
"I am happy that Germany has become a country that many people outside of Germany now associate with hope," German Chancellor Angela Merkel told a Berlin news conference Monday. "What isn't acceptable in my view is that some people are saying this has nothing to do with them. This won't work in the long run. There will be consequences although we don't want that."
Despite Merkel's steadfast support for letting in refugees, the episode has exposed tensions not only within the E.U., but within Merkel's own coalition government.
"There is no society that could cope with something like this," Bavarian premier Horst Seehofer, leader of the conservative Bavarian Christian Social Union, told Reuters. "The federal government needs a plan here."
Late Monday, Upper Bavaria government spokeswoman Simone Hilgers told the Associated Press that a total of 4,400 people have arrived in Munich, and a further 1,500 refugees were routed to other cities in Germany, including Dortmund, Hamburg and Kiel.
Reuters reported that European President Jean-Claude Juncker would unveil new plans for distributing refugees throughout the member states. Under the plan, Germany would take on more than 40,000 and France 30,000 of the 160,000 asylum seekers the European Commission says need to be relocated from Italy, Greece and Hungary, the main entry points for refugees into the E.U.
French President Francois Hollande has already pledged that his country would accept 24,000 refugees. Later Monday, Interior Minister Bernard Cazeneuve announced that France would immediately take in 1,000 refugees currently in Germany who are in "urgent need of protection." Cazeneuve said a French asylum team was currently at the border of Germany and Austria, near Munich, to identify the 1,000 — who had to be Syrian, Iraqi or Eritrean.
The 1,000 will be briefly lodged in the Paris region in the coming days while their asylum demands are processed, the minister said. They will then be sent to towns around France where mayors have said they are willing to take in refugees. The lodgings will be state-owned buildings, he said, and "very temporary." Cazeneuve will meet with the mayors on Saturday.
It was not immediately clear if the 1,000 counted toward the 24,000 specified by Hollande.
British Prime Minister David Cameron also said Monday that the U.K. would re-settle up to 20,000 Syrian refugees from camps in Turkey, Jordan and Syria over the next five years.
Late Monday, Hungarian Defense Minister Csaba Hende resigned amid delays in the construction of a border fence meant to keep refugees from crossing into Hungary via the country's border with Serbia.
A statement from Orban's government didn't explicitly blame Hende for the failure to complete the building of the planned 13-foot fence along the 110-mile frontier, but it was supposed to be completed by the end of last month and remains largely unfinished. Only several strands of razor wire have been placed along the full length of the border, while the higher barrier is standing only in a few areas.
In Greece, the coast guard said Tuesday its patrol vessels picked up nearly 500 migrants in 11 search and rescue missions over the past 24 hours in the eastern Aegean Sea.
The people, whose nationalities were not immediately clear, were found in small boats near the islands of Lesbos -- which accounts for nearly one in two migrant arrivals in Greece -- Samos, Kos and the islet of Agathonissi.
More than 15,000 refugees and migrants are stranded on Lesbos, awaiting screening before they can board a ferry to the Greek mainland -- from where they head north through Macedonia, Serbia and Hungary to seek asylum in more prosperous European countries.
The Associated Press contributed to this report.