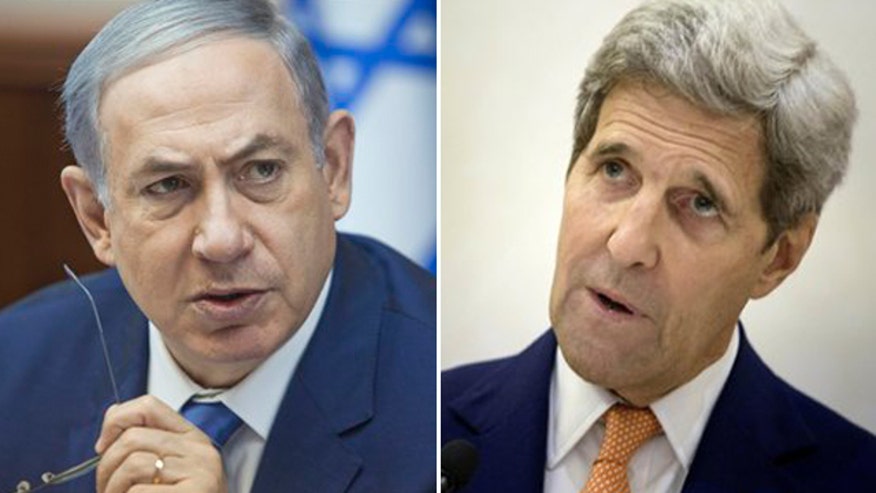 HAIFA, Israel – An unsettling surge in terrorism by Iranian proxies has many Israelis convinced the release to Tehran of tens of billions of dollars in frozen funds is already putting the Jewish state in danger.

In recent days, rockets have rained down on Israel from Gaza in the south and the Golan Heights to the north, Israeli forces foiled a bomb plot at the tomb of biblical patriarch Joseph, and Gaza-based terrorist groups that also have a presence in the West Bank have openly appealed for aid on Iranian television. Israeli officials fear the terrorist activity is spiking as groups audition for funding from Tehran, which is set to receive the long-frozen funds as part of its deal to allow limited nuclear inspections. They say the international focus on Iran's nuclear ambitions has left its more conventional methods of attacking regional adversaries unaddressed.
"The nuclear context is just one aspect of the negative Iranian activities in the region," Emmanuel Nahshon, senior Israeli Foreign Ministry spokesman, told FoxNews.com. "We can see the demonstration of this on a daily basis in Syria, in Yemen, and in Iraq. We see it also when we see the [Iranian] support of Hezbollah and other groups who operate against Israel."
Last month, National Security Adviser Susan Rice admitted that some of the money due to be released as part of the deal negotiated by the U.S. led P5+1 "would go to the Iranian military and could potentially be used for the kinds of bad behavior that we have seen in the region."
"The amount that Iran gives Hezbollah is not very much - around $200 million - not even 1 percent of Iran's budget last year."

- Meir Javedanfar, an Iranian-born Israeli expert


Aside from the soon-to-be-released billions, Iran's finances will also be strengthened by the easing of trade embargoes that have seen a horde of major international business - many from P5+1 countries – rushing to sign lucrative deals with the ayatollahs. Earlier this week, British Foreign Minister Philip Hammond scoffed at the fears of Israel and many Arab countries in the Middle East, saying the deal would "slowly rebuild their sense that Iran is not a threat to them." Less than 24 hours later, the spokesman for Iran's top parliament member said, "Our positions against [Israel] have not changed at all; Israel should be annihilated."
If that remains Iran's intention, terror groups Hezbollah, Hamas, and Palestinian Islamic Jihad are showing a renewed eagerness to continue as its proxies. Four rockets apparently fired by the PIJ from Syria into northern Israel last week – two into the Golan Heights and two more into the Upper Galilee – were the first such attacks since the start of Syria's bloody civil war more than four years ago. Israel responded with targeted missile strikes, including one which hit a car killing "five or six PIJ terrorists."


On Aug. 18, Iranian state TV broadcast images of a new, 2.5-mile tunnel leading from Gaza into Israel. Dug by the Fatah-linked terror group the Al Aqsa Martyrs Brigade, and seemingly competing with arch-rivals Hamas for a share of the imminently unfrozen Iranian funds, the terrorists made an unabashed appeal for more cash. In a segment translated by Palestinian Media Watch, the terror group's representatives said, "This is why we are asking [for money]… especially [from] Iran, which is a known long-time supporter of the resistance and the Palestinian cause."

On Tuesday, Israeli officials revealed that a joint Israeli internal security and military operation thwarted a potentially lethal bomb attack planned by the Islamic Jihad on visitors to Joseph's Tomb in Shechem in the Palestinian-controlled West Bank, the resting place of the biblical figure revered by Jews, Christians and Muslims alike.

The pace of attacks, as well as the diversity of their perpetrators, has prompted speculation that terrorist groups are competing for Iranian funding, and trying to show they are capable of giving Tehran bang for its buck. The terrorist groups however operate on budgets that are tiny given the scale of Iran's financing capability.

"The amount that Iran gives Hezbollah is not very much - around $200 million - not even 1 percent of Iran's budget last year," Meir Javedanfar, an Iranian-born Israeli expert on the region who writes at www.middleeastanalyst.com, told FoxNews.com. "If you want to stop Iranian support of Hezbollah you would need to have inspectors on the ground in Syria and Lebanon, the most dangerous of places, checking Hezbollah's arsenal, bank accounts, bases, and Syrian bases which Hezbollah uses. I don't see any UN force, or anyone else volunteering to do that."
Paul Alster is an Israel-based journalist. Follow him on Twitter @paul_alster and visit his website: www.paulalster.com.