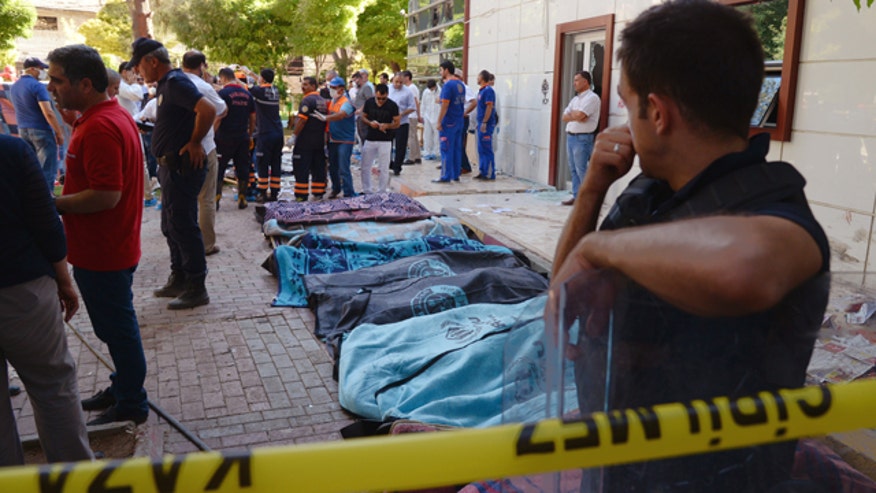 – Turkey will increase security measures along its border with Syria, Prime Minister Ahmet Davutoglu said Monday, after an apparent suicide bomber turned a youth group meeting at a garden in southeastern Turkey into a scene of bloodied bodies and terror, killing 30 people.
The midday blast occurred in the garden of the Amara Cultural Center in the city of Suruc, the interior ministry said. Graphic photos and video on social media showed bloodied bodies lying on the ground. Turkish officials said 30 died in the blast and nearly 100 more were taken to hospitals.
About 200 young people were staying at the center at the time of the explosion, to assist in rebuilding work in the nearby Syrian town of Kobani. The private Turkish news agency DHA said they were part of a political group—The Federation of Socialist Youths-- holding a news conference on Kobani's reconstruction.
There was no immediate claim of responsibility for the blast but a Turkish official said authorities have evidence that the attack was a suicide bombing and suspect the Islamic State group (ISIS) initiated it. The official spoke on condition of anonymity because he was not authorized to speak on the record.
Turkish President Tayyip Erdogan condemned those responsible for what he called a "terrorist attack." Erdogan was speaking at a news conference during an official visit to Nicosia, Reuters reported.
The country's prime minister said the attack required action. "We have convened with security officials and planned the steps that we will be taking," Davutoglu told a news conference Monday.
"Measures on our border with Syria will continue, and will be increased," he added.
In a statement on Twitter, Turkish Deputy Prime Minister Yalcin Akdogan said "such despicable terrorist attacks on Turkey's integrity and peace will never reach their goal."
Fatma Edemen, 22, said the federation of about 200 youths was pressing for access to help reconstruction in Kobani when the bomb exploded.
"We just heard from the cops that it was a suicide bomber," she told The AP, speaking as she headed to a hospital to get treatment for minor injuries to her legs. "One of my friends protected me. First I thought `I am dying' but I was OK. I started to run after I saw the bodies."
Speaking by phone, her voice shaking, she said the group had believed Kobani was relatively safe and ready to rebuild.
"Our friends went there and it didn't seem dangerous at that time. We couldn't even think something like that would happen," she said, adding that they hoped to build a kindergarten or something else for children in the devastated city.
"We wanted to do something, but they would not let us," she added.
The prime minister's office confirmed the casualty numbers to the Associated Press Monday.
"We call on everyone to stand together and remain calm in the face of this terrorist attack which targets the unity of our country," a statement from the interior ministry said Monday.
Pervin Buldan, a lawyer from the pro-Kurdish HDP opposition party, said Turkish and Kurdish youths had gathered at the cultural center to take part in relief work in Kobani. She told Sky News that local officials were investigating the possibility a suicide bomber was responsible for the blast.
Suruc is just across the border from the Syrian city of Kobani, the scene of fierce battles between Kurdish groups and ISIS. Kobani was ISIS' biggest defeat last year since the militants established control over large swathes of Iraq and Syria, and has become a symbol of Kurdish resistance. The southeastern city has housed many refugees who have fled fighting in Kobani between ISIS militants and Kurdish fighters since September last year, when IS overran the town.
If confirmed that ISIS was behind Monday's attack, it would represent a major expansion of the group's campaign into Turkey at a time that the Turkish government appears to have stepped up its efforts against the group.
In January, a female suicide bomber with suspected ISIS ties blew herself up in a tourist district of Istanbul, killing a police officer and injuring another.
Another explosion went off Monday south of Kobani. One Kurdish official initially described it as a bomb, but Kurdish official Mustafa Bali later said it happened as Kurdish militiamen were removing mortar shells from a dump. Three Kurdish fighters were killed, he said.
Suruc hosts the largest refugee camp in Turkey, which has seen nearly two million Syrians cross its border to flee the fighting in their homeland.
More than 220,000 people have been killed and at least a million wounded since Syria's crisis began in March 2011, according to the U.N.
Kobani was also the scene of surprise ISIS attacks last month that killed more than 200 people.
The Associated Press contributed to this report.