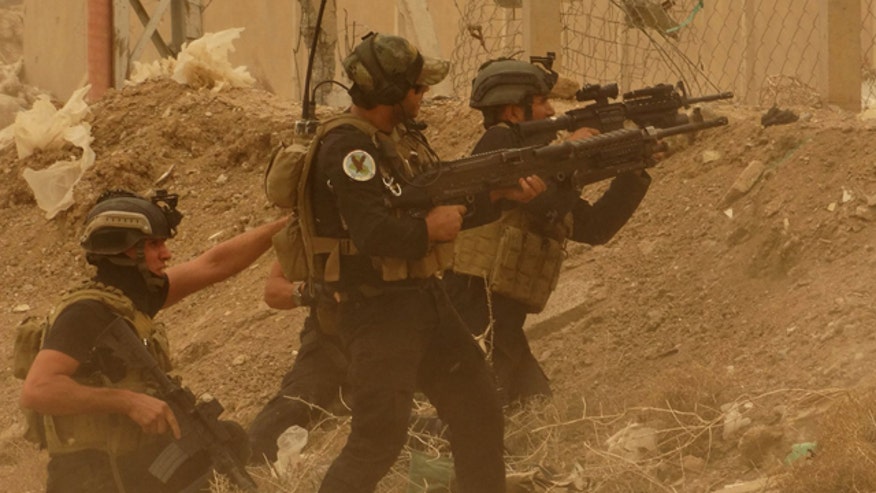 Days after the White House put the onus on Iraq to defeat ISIS, the nation's prime minister fired back at the U.S. and beyond – saying the terrorist army's advance is "a failure on the part of the world."
"I think this is a failure on the part of the world."

- Haider al-Abadi, Iraqi prime minister
Speaking at a summit in Paris called by representatives of 20 nations involved in the fight against ISIS, Haider al-Abadi complained that there is "a lot of talk" about supporting Baghdad's fight for survival but not enough action.
"I think this is a failure on the part of the world," al-Badi said. "There is a lot of talk of support for Iraq, there is very little on the ground."
He added that the world has a stake in stopping the terrorist army's rapid rise, noting that ISIS originated in Syria, spread into Iraq and is drawing recruits from throughout the world.
The summit came as Baghdad works to muster an army of its own soldiers, Shia militias and Iranian forces to mount a counter-offensive on Ramadi, a key city an hour west of Baghdad that was seized two weeks ago by ISIS. The terrorist army slaughtered more than 500 civilians and soldiers, sending surviving Iraqi troops fleeing and leaving weapons behind. It also caused a humanitarian crisis, as tens of thousands of Iraqis fled the city for Baghdad.
Just last week, White House spokesman Josh Earnest put the responsibility for defeating ISIS squarely on the Iraqis in a pointed comment that seemed to close the door on any prospect of augmenting U.S. air strikes with boot on the ground.
"The United States is not going to be responsible for securing the security situation inside of Iraq," Earnest told Fox News.
The statement appeared to catch Baghdad off guard, and drew criticism in the U.S., where some saw it as an abdication of America's duty to continue helping the fledgling democracy it helped create as well as protect religious minorities being slaughtered by ISIS.
"The only time Obama pays attention to ISIS is to duck responsibility," said former U.S. Ambassador to the United Nations John Bolton, a Fox News contributor.
Earnest defended the administration's strategy, amid growing concerns about gains made by ISIS fighters in both Iraq and Syria. Earnest said the effort would take a "sustained commitment," but stressed that the U.S. will continue to focus on training and equipping Iraqi forces, while backing them up on the battlefield with air power.
"Our strategy is to support the Iraqi security forces in doing what we will not do for them," he said.
The U.S. has pledged to improve and speed up the program to train and equip Iraqi forces, including options to better prepare Sunni tribes to join the fight.
Al-Badi complained in Paris that past promises of arms and ammunition from the international coalition have not been fulfilled, but the Pentagon is concerned by the fact that weapons ranging from rockets to tanks have been seized from Iraqi soldiers who fled in the face of the ISIS onslaught.
The summit, hosted by French foreign minister Laurent Fabius, focused on ways to cut off ISIS finances and stop its influence from spreading globally. U.S. Secretary of State John Kerry addressed ministers by video from the U.S., where he is being treated for a broken leg suffered in a biking accident.
Britain pledged to expand its training mission, for now focused in the relatively safe Kurdish-held area in northern Iraq, into areas nearer to Baghdad.
Equipping the Iraqi army without wading back in to what has become a war between Islam's two major groups is sound strategy, said Clare Lopez, vice president for research and analysis at the Center for Security Policy. She said the destabilization of Saddam Hussein's Sunni regime paved the way for Iran to make Iraq, like Syria, its puppet state. The mainly Sunni ISIS has so far contained its designs to those two nations, she said.
"No one has yet articulated how tipping the balance one way or the other in this struggle between equally jihadist enemies advances core, compelling U.S. national security interests," Lopez told FoxNews.com.
Lopez said America's interests in the region involve defending allies including Israel, Jordan and the Kurds and ensuring the flow of oil, "but spending one more drop of American blood or treasure in defense of Iranian" puppet regimes is not among them.