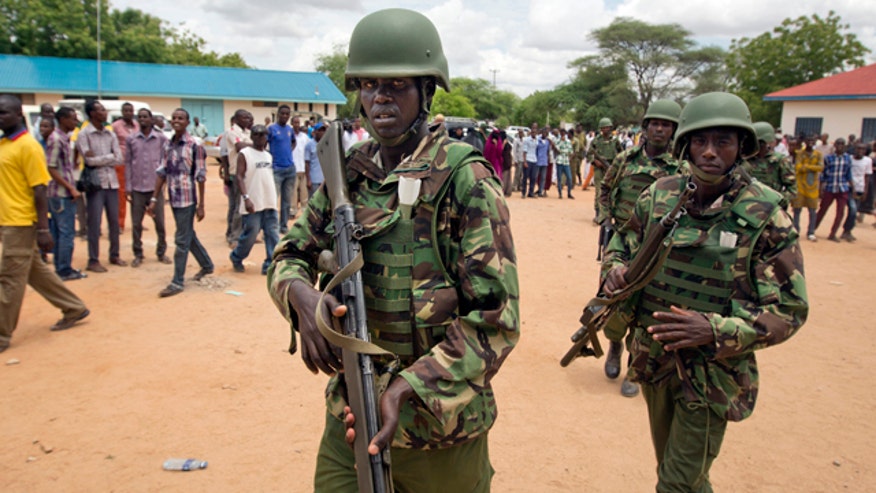 GARISSA, Kenya – Kenya's military said Monday that it had launched airstrikes against Islamist positions in Somalia after a terror attack at a university that killed 148 people last week.
Military spokesman Col David Obonyo told the Associated Press that warplanes had attacked positions held by the al-Shabaab terror group in the Gedo region of Somalia beginning Sunday afternoon and continuing into Monday morning. Gedo is directly across Kenya's border in western Somalia.
"This is part of continuing operations, not just in response to Garissa," he said, a reference to the town in northeastern Nigeria where the attack occurred.
Al-Shabaab had previously claimed responsibility for the deadly attack on Garissa University College in northeastern Kenya and vowed to carry out others in response to Kenya sending troops to Somalia in 2011 to do battle with the terror group after gunmen carried out cross-border raids and kidnappings.
"No amount of precaution or safety measures will be able to guarantee your safety, thwart another attack or prevent another bloodbath," said al-Shabaab.
Four al-Shabaab attackers were killed Thursday to end the siege and their bullet-ridden bodies were later displayed in Garissa.
Meanwhile, more disturbing information was revealed about Thursday's attack, as authorities said Sunday that one of the al-Shabaab gunmen who attacked the campus has been identified as the son of a Kenyan government official.
Abdirahim Mohammed Abdullahi was the son of a government chief in Mandera County, Interior Ministry spokesman Mwenda Njoka told The Associated Press. The chief had reported his son missing last year and said he feared he had gone to Somalia, said Njoka. Abdullahi and three other attackers were killed by Kenyan security forces on Thursday.
Abdullahi graduated from the University of Nairobi with a law degree in 2013 and was viewed as a "brilliant upcoming lawyer," according to someone who knew him. It is not clear where he worked before he disappeared last year, Njoka said.
To prevent an escalation of Islamic radicalization in Kenya, it is important that parents inform authorities if their children go missing or show tendencies of following violent extremism, said Njoka.
Kenyans make up the largest number of foreign fighters in al-Shabaab, according to experts. Hundreds of Kenyan youths have trained with al-Shabaab and then returned to Kenya, posing a major security threat, according to former police chief Mathew Iteere.
Kenya's government has said another source of instability is the country's refugee camps. The Dadaab Camp-- which houses nearly 500,000 refugees-- is the center for the "the training, the coordination, the assembling of terror networks," claimed Aden Duale, a parliament majority leader.
Questions have been raised about the security response to the Garissa attack. Police waited seven hours before sending a special tactical unit into the college to fight the gunmen, Kenya's Daily Nation newspaper reported Sunday.
When the specially trained police finally went in, it took them only 30 minutes to kill the four attackers and stop the siege, the paper said.
Army barracks are just 540 yards from the college, and military officers said they could handle the attack, said a police officer who spoke on condition of anonymity because he was not authorized to talk to the media. Only after three soldiers were killed did the army call in the police tactical unit, he said.
Relatives of some of the Garissa attack victims gathered at a funeral home in Nairobi Monday to view their loved ones and pray. A funeral home employee read out some of the victims' names before their relatives went inside to mourn in private. Many emerged in tears.
The Associated Press contributed to this report.