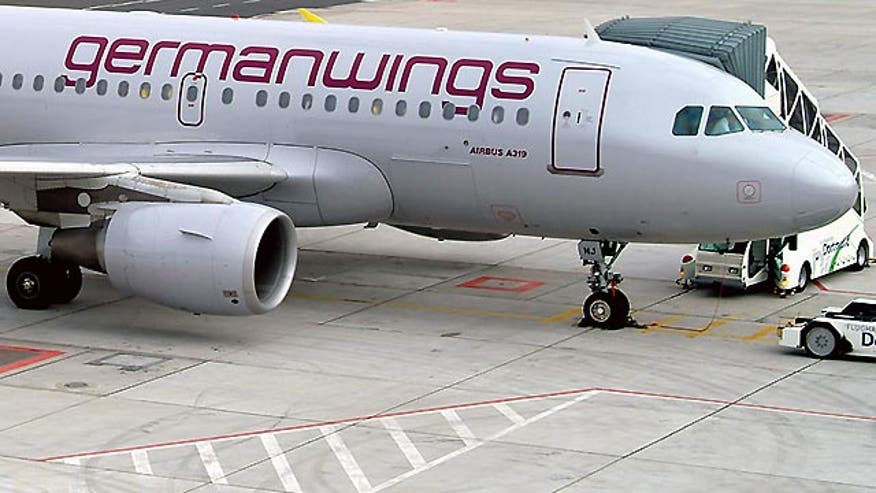 The autopilot on the doomed Germanwings plane that crashed into the Alps was abruptly switched to descend to 100 feet, according to a new report Thursday.
FlightRadar24, an online tracking service that uses satellite data, found evidence the autopilot was adjusted to its lowest setting before the plane started its steady fall from the sky, Reuters reported.
French prosecutors said Andreas Lubitz, the 28-year-old who officials say locked the pilot out of the Germanwings cockpit and then calmly slammed the plane into a mountainside at 430 miles per hour. He reportedly battled burnout and depression in 2009, while training to realize his dream of flying.
FlightRadar said its review of data showed the autopilot was manually changed from 38,000 feet to 100 feet and 9 seconds later the aircraft started to descend, probably with the "open descent" autopilot setting, the firm's CEO Fredrik Lindahl said. The plane slammed into a mountain at 6,000 feet, killing 150 people.
Lindahl said FlightRadar24 shared its findings with French crash investigators.
With no apparent ties to terrorism, authorities were focusing Thursday on the mental state of the German co-pilot believed to have intentionally crashed a plane into the French Alps Tuesday, killing all 150 aboard.
It was not known if Lubitz' mental issues continued to plague him years later, but new clues could emerge from searches that took place Thursday at a Dusseldorf apartment Libitz maintained as well as at his parents' home in Montabaur, a small town in western Germany.
French prosecutor Brice Robin insisted Thursday that Lubitz had no known ties to terrorism that could explain the act.
"A terrorist?" he said in response to a question. "Absolutely not."
Three Americans were among those killed, including Yvonne and Emily Selke, a mother and daughter from Virginia, and Robert Oliver, whose name, but no further details, was released Thursday by the State Department.
Clues from the Airbus 320's cockpit voice recorder painted a partial picture of a calm and calculated effort by Lubitz. As the plane left Barcelona, Lubitz and Capt. Patrick Sonderheimer chatted amiably. But as the plane neared cruising altitude of 38,000 feet, Lubitz's replies became more clipped. And when Sonderheimer rose to leave the cockpit, likely to use the restroom, Lubitz appeared to put his deadly plan into action.
"I'm leaving you in charge," Sonderheimer said.
Robin said in a Paris that the evidence from the cockpit voice recorder, one of two "black boxes" and the only one recovered so far, indicates Lubitz refused to open the cabin door when Sonderheimer returned, beginning the 8-minute descent "manually and intentionally."
Robin said the commander of the plane knocked several times "without response." He said the door could only be blocked manually.
The information was pulled from the black box cockpit voice recorder, but Robin said the co-pilot did not say a word after the commanding pilot left the cockpit.
"It was absolute silence in the cockpit," he said.
Screams can be heard from passengers in the final seconds of their lives, officials said.
It was the co-pilot's "intention to destroy this plane," Robin said. The recorder captured his normal breathing patterns, suggesting Lubitz was not incapacitated.
"It wasn't the breath of somebody who was struggling," the prosecutor said. "He didn't say a single word. Total silence."
Asked when passengers realized their fate, Robin said, "We only hear screams at the very end. Death was instant."
During the final minutes of the flight's descent, pounding could be heard on the cockpit door as plane alarms sounded, but the co-pilot's breathing was normal throughout the whole time, Robin said.
"It's obvious this co-pilot took advantage of the commander's absence. Could he have known he would leave? It is too early to say," he said.
Lufthansa CEO Carsten Spohr said the airline was already "appalled" by what happened in its low-cost subsidiary.
"I could not have imagined that becoming even worse," Spohr said in Cologne. "We choose our cockpit staff very, very carefully."
In the German town of Montabaur, acquaintances told The Associated Press that Lubitz showed no signs of depression when they saw him last fall as he renewed his glider pilot's license.
"He was happy he had the job with Germanwings and he was doing well," said a member of the glider club, Peter Ruecker, who watched Lubitz learn to fly. "He gave off a good feeling."
Lubitz, 28, joined Germanwings in September 2013, directly after training which included a stint at a facility near Phoenix, Aiz., and had flown 630 hours. Lufthansa chief executive Carsten Spohr described both pilots as "experienced and trained."
Robin said the Germanwings plane's second black box still had not been found but remains of the victims were being collected and DNA identification had begun.
The plane was about halfway through its flight when it descended from a cruising altitude of 38,000 feet to around 6,000 feet in approximately eight minutes. During that time, the co-pilot did not respond to radio calls from French air traffic controllers, who alerted authorities when the plane disappeared from their radar screens.
The Wall Street Journal, citing Airbus training materials, reported that many Airbus jets are fitted with crew-controlled locks designed to prevent unauthorized access to the flight deck. In some planes, the cockpit can be accessed through a keypad code, but pilots can also lock out external access for five minutes or longer by flipping a certain switch in the cockpit.
The Associated Press contributed to this report.